Batman Character Guide [INTERACTIVE]
Play Sound
Gorilla Grodd was a maniacal, telepathic gorilla from Gorilla City that became an enemy of the Flash and the Justice League.

History
Before Brainiac
Prior to the destruction of Metropolis, Gorilla Grodd had come to the United States from Gorilla City, bend on domination. He fought the Flash at least once and joined his Rogues gallery.
During the first year of Superman's regime, Grodd was tracked down by members of the Justice League in order to find the whereabouts of Mirror Master, who had kidnapped Superman's parents.
Sometime afterwards, Grodd returned to Gorilla City and would become a general in its army under their king Solovar. After the fall of Superman's regime which reigned for five years, Solovar, who sought the destruction of humans he believed were threatening nature, allied Gorilla City with the League of Assassins under Ra's al Ghul. Grodd, angry and spiteful, did not trust Ra's al Ghul but was forced to remain loyal to Gorilla City by Solovar. [1]
At some point, Gorilla Grodd brought together a new team to rule the world called The Society, offering all its members certain privileges after they rid the world of heroes.
Brainiac's Invasion
Grodd is shown on Brainiac's skull ship, where he is informed of the arrival of Supergirl. Per their agreement, Grodd was to bring both Superman and Supergirl to Brainiac, and had the society get them. In the tenth chapter of the game, it is revealed the Society disbanded, and Grodd now controls Green Arrow, Black Canary, and Blue Beetle via mind control. As a means to get past Brainiac's shield, Black Adam and Aquaman go to Kandaq to charge Aquaman's trident. This revealed the mystic city's location to Brainiac and he ordered the gorilla to get him a sample of the Rock of Eternity.
After going through the three mind controlled heroes, the player then decides on fighting Grodd as either Aquaman or Black Adam. After the battle, Aquaman deals the killing blow by stabbing Grodd through the heart.
Possible Post-Brainiac Epilogue
This section of history takes place in a timeline outside that of normal
Injustice
canon.
Upon beating "Classic" mode in
Injustice: Gods Among Us
or "Multiverse" mode in
Injustice 2
with any playable fighter, the player would receive a possible alternate ending to the game's story featuring their fighter. These alternate histories should not be seen as relevant to future sequels or comic adaptations.
"The befuddled look frozen on Brainiac's dead face is a vision I will always relish. Even as I ripped the head from his body, the alien couldn't believe an ape was taking his life. I quickly mastered Brainiac's technology, exponentially increasing my telepathic power. Then I enslaved Earth's humans, finally relegating them to their proper place. But my victory over those vermin was only the beginning.
Now fully in command of Brainiac's vast powers, I am the greatest conqueror the universe has ever seen. All worlds will kneel before Emperor Grodd!"

Powers and Abilities
Powers
Gorilla Physiology
Abilities
Notes
Related
Footnotes

Rogues Gallery
This character is or was a member of the Rogues, a loose collection of enemies to the Flash, in any of its various incarnations. They are a team of highly effective super-villains with their own internal code that prevents them from killing speedsters.
This template will categorize articles that include it into the "Rogues Gallery members category."


Flash Villain(s)
This character, team, or organization, is or was primarily an enemy of any or all of the various incarnations of the Flash. This template will categorize articles that include it into the category "Flash Villains."
Justice League Villain

This character is or was primarily an enemy of the Justice League, in any of its various incarnations. This template will categorize articles that include it into the category "Justice League Villains."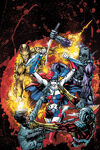 Suicide Squad member
This character is or was a member of the Suicide Squad, a team of imprisoned super-villains who perform high-risk missions for the U.S. Government in exchange for commuted sentences, in any of its various incarnations. This template will categorize articles that include it into the "Suicide Squad members" category.