Cobra Kai Season 4 - The Loop
Play Sound
The building was constructed and owned by Wayne Enterprises and as most of the buildings owned by that company, the Clock Tower was fortified against earthquakes and thus, it was able to withstand the earthquake that leveled Gotham. The Tower was used since the beginning as
Gotham Clock Tower is what the name implies - a large clock tower in Gotham City. It was previously the headquarters for both Oracle and the Birds of Prey.
History
The building was constructed and owned by Wayne Enterprises and as most of the buildings owned by that company, the Clock Tower was fortified against earthquakes and thus, it was able to withstand the earthquake that leveled Gotham.[1] The Tower was used since the beginning as Barbara Gordon's living place and base of operations. Barbara installed many computers that allowed her to begin her work as Oracle. In this job, Barbara was the main source of help for Batman and the Justice League providing information that they needed on their respective missions. The Clock Tower was also used as meeting point for the Bat-Family during No Man's Land[2] and also as a base of operations for the Birds of Prey.
Barbara also installed a maximum security system in the Tower to protect herself as well as the many records and files she had saved over the time on her duty as Oracle. The security system consisted of traps like lasers, trap doors, electrified fences, flashing lights, sliding staircases and more.[3][4] This security measures proved useful during No Man's Land, when the Tower was targeted twice: one time by Black Mask and the second time by William Pettit.[5][6]
Black Mask would target the Tower again during the Gang War that shattered Gotham.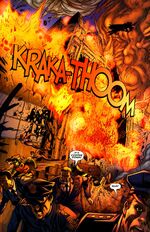 Black Mask learned about the place from Hush, who lied to Black Mask telling him that the tower was in fact the Batcave.[7] Black Mask gathered the criminal underworld in Gotham around the tower and revealed it as the Batcave.[8] Black Mask then allowed all the criminals to storm the tower while Oracle did her best to defend the place.[4] Batman arrived and fought Black Mask in the main chamber with Barbara as witness. They were killing each other and in order to make them stop, Barbara activated the auto-destruction sequence and locked all the ways outside. She did so in order to stop Batman from fighting Black Mask and save her instead, as she wasn't able to get out. Batman managed to save Barbara just when the whole building collapsed from the explosions caused by the auto-destruction sequence.[9] This was the end of the Gotham Clock Tower and Oracle relocated to Metropolis afterwards.


Residents
Formerly:
See Also