Batman Character Guide [INTERACTIVE]
Play Sound
Harley Quinn worked with the Riddler.

History
Doctor Harleen Quinzel was one of the most respected psychiatrist in Arkham Asylum, until she discovered the reason behind her father's tragic death: a genetic disease that brought about depression and eventually led him to take his own life. Whether it was the onset of this illness or just the trauma of knowing what might be waiting for her, Quinzel turned to working with the notorious Riddler and becoming a criminal under the name Harley Quinn.

Powers and Abilities
Abilities
Paraphernalia
Equipment
Notes
Related
Quotations by or about Harleen Quinzel (Batman: The Telltale Series)

Character Gallery: Harleen Quinzel (Batman: The Telltale Series)
Footnotes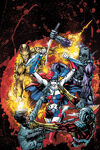 Suicide Squad member
This character is or was a member of the Suicide Squad, a team of imprisoned super-villains who perform high-risk missions for the U.S. Government in exchange for commuted sentences, in any of its various incarnations. This template will categorize articles that include it into the "Suicide Squad members" category.