Batman Character Guide [INTERACTIVE]
Play Sound
Harley Quinn is a student at Super Hero High.

History
A mischievous jokester, Harley Quinn is the class clown at Super Hero High. Always trying to receive laughs instead of grades with her pranks, the sneaky student may have ulterior motives.
Expand
This section of the article does not provide a complete profile of the subject. You can help out by providing additional information, expanding on the subject matter in order to bring this article to a higher standard of quality.

This template will categorize articles that include it into Category:Incomplete Articles.
Powers and Abilities
Abilities
Acrobatics: She's been able to twist and turn out of some pretty tight situations.
Gadgetry: Harley knows there's a clown inside everyone just waiting for the opportunity to put on a big red nose, floppy shoes and burst out.
Notes
Trivia
Harley Quinn is known as the Class Clown due to her quick-witted, fun and unpredictable nature.
Harley Quinn has dyed her hair red and blue in places.
Harley Quinn loves to make puns.
Related
Quotations by or about Harleen Quinzel (DC Super Hero Girls)
Footnotes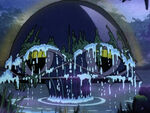 Legion of Doom member
This character is or was a member of the Legion of Doom, a team of supervillains called together for the purpose of conquering the world and defeating the Super Friends, in any of its various incarnations. This template will categorize articles that include it into the "Legion of Doom members" category.