Batman Character Guide [INTERACTIVE]
Play Sound
Doctor Harleen Quinzel is the insane criminal Harley Quinn. A psychiatrist-turned-psychotic-criminal, Harley is the former girlfriend and crime partner of the Joker before making a name for herself in Gotham City with her own crew, performing crimes and saving Gotham from various catastrophes. She is impulsive, reactive, and wants to do right by her friends, but doesn't always know how to do so. She is currently in a relationship with Poison Ivy.

History
Powers and Abilities
Powers
Cheating Death: Unexplained how, Harley survived fall to a canyon from a moving train. She also survived sub-zero temperatures without proper winter clothing, and was able to return to Gotham from Russia.
Cosmic Awareness: Harley is aware of being an fictional character.[3]
Abilities
Other Characteristics
Mental Disorder: Harley is crazy, plain and simple; trying to define what form of derangement she suffers from has eluded doctors. Harley noticeably has fabricated/altered memories (back when she was still with Joker), has talked to her former persona Harleen via a picture. It was also revealed that she was mentally ill long before she even met Joker.
Paraphernalia
Weapons
Notes
Related
Footnotes


Robin Villain(s)
This character, team or organization, is or was primarily an enemy of any of the young heroes who have been known as Robin. This template will categorize articles that include it into the category "Robin villains."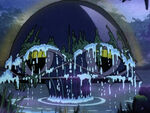 Legion of Doom member
This character is or was a member of the Legion of Doom, a team of supervillains called together for the purpose of conquering the world and defeating the Super Friends, in any of its various incarnations. This template will categorize articles that include it into the "Legion of Doom members" category.