Batman Character Guide [INTERACTIVE]
Play Sound
Corporal Horace "Bulldozer" Canfield served in Easy Company as Sgt. Rock's second-in-command.

History
Powers and Abilities
Abilities
Paraphernalia
Weapons
Notes
Although this character was originally introduced during DC's Earth-One era of publication, their existence following the events of the 1985–86 limited series Crisis on Infinite Earths remains intact. However, some elements of the character's Pre-Crisis history may have been altered or removed for Post-Crisis New Earth continuity, and should be considered apocryphal.
Before Bulldozer's appearance, there was an earlier character named Sergeant Nichols who first had the nickname "Bulldozer."
Related
Character Gallery: Horace Canfield (New Earth)
Footnotes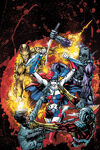 Suicide Squad member
This character is or was a member of the Suicide Squad, a team of imprisoned super-villains who perform high-risk missions for the U.S. Government in exchange for commuted sentences, in any of its various incarnations. This template will categorize articles that include it into the "Suicide Squad members" category.