The Information Tool, also known as Info Tool or Infotool for short, is a fundamental technology of the Cooperative, a highly advanced spacefaring civilization in the Milky Way Galaxy. The Tool has become so integral to the everyday lives of Cooperative citize
History
The Information Tool, also known as Info Tool or Infotool for short, is a fundamental technology of the Cooperative, a highly advanced spacefaring civilization in the Milky Way Galaxy. The Tool has become so integral to the everyday lives of Cooperative citizens because of its remarkable accessibility, ease of use, and versatility of functions.[1]
The Info Tool is accessed through voice activated computer interfaces called local access systems. These systems are found in homes, government offices, starships and other locations on thousands of Cooperative worlds. The local access systems form a vast interstellar network which is possible thanks to the same quantum tunneling technology the Cooperative relies on for long-range communication.[1]
A local access system relies on both verbal responses and holographic displays to guide users through the Info Tool's various functions. The Tool is fully self aware and can often anticipate users' needs before they do.[1][2]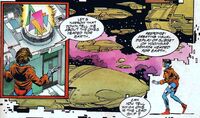 The Info Tool primarily serves as a computerized database of virtully all knowledge in the Cooperative that is available to everyone.
[1]
The source of this knowledge is the Tool's users, usually Cooperative citizens, who add to the database via local access systems.
[1]
New data is added to the Info Tool in such formats as text, verbal accounts, and visual data. The Info Tool can even scan an item (organic or inorganic) and store its molecular structure within files called "software."
[1]
A user can also retrieve information from the Info Tool, which presents this data as verbal responses, holograms, or both.
[1]
[2]
Besides information sharing, the Info Tool enables users to wirelessly connect to and operate other Cooperative technology. Thus, a user can engage in activities ranging from interstellar communications to creating dinner via the Maker, a molecular factory that instantly converts energy into any form of matter.[2][1] A user can even employ the Info Tool to connect to and operate primitive technology like the telephones or electric lights found on Earth.[3]


Notes
The Information Tool's voice was first heard in Icon #26, but it was not identified until Icon #31.
See Also
Links and References
Community content is available under
CC-BY-SA
unless otherwise noted.