Batman Character Guide [INTERACTIVE]
Play Sound
Jervis Tetch was a psychopathic criminal known as the Mad Hatter, who adopted his persona and mannerisms from the character in Alice's Adventures In Wonderland.

History
He busted out of Arkham Asylum with a bunch of other criminals and joined the Joker's group as they intend to destroy a cathedral and spread his deadly laughing gas across Gotham.

Powers and Abilities
Abilities
Other Characteristics
Notes
Related
Quotations by or about Jervis Tetch (Lego Batman)
Footnotes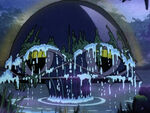 Legion of Doom member
This character is or was a member of the Legion of Doom, a team of supervillains called together for the purpose of conquering the world and defeating the Super Friends, in any of its various incarnations. This template will categorize articles that include it into the "Legion of Doom members" category.