Batman Character Guide [INTERACTIVE]
Play Sound
John Byrne (b. July 5, 1950) is a writer.
Personal History
John Byrne is largely considered to be one of the most prolific and pioneering creators working in the field of comics today. He is proficient in all manner of the creative process including writing, pencil work, inking and even lettering. He has contributed material to many different comic companies over the years including, Marvel Comics, Charlton Comics, Dark Horse Comics and DC Comics. He is known for taking older concepts and retooling them in order to make them more palatable for modern readers.
In the realm of DC comics, his most notable contribution consists of the complete revision of Superman's background and supporting cast following the events of the Crisis on Infinite Earths. DC Comics management had wanted to revamp or relaunch the character for years. Details of the rationale, and the history of how the changes came about, can be found here, excerpted from an article by Peter Sanderson, originally presented in Amazing Heroes #96, June 1986.
Byrne also helmed the 4th volume of the Doom Patrol, in which DC ignored previous continuity and introduced some new characters.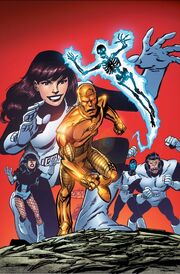 In an interview at UGO Byrne discusses the changes:

UGO: The initial press releases about Doom Patrol created a lot of angry responses because you were sidestepping established continuity. When you were doing Fantastic Four for Marvel, you could create a story around an obscure character or continuity point, but with Superman you began to move away from continuity. What's made you move in that direction? And what draws you to a group of characters like Doom Patrol if you strip away their history?
JOHN: Doom Patrol and Superman are the only titles, out of dozens I have worked on, that I have "rebooted." This is not my first choice. In fact, in both cases, the suggestion came from the editorial level. Dick Giordano wanted me to start Superman from scratch, and it was Mike who first invoked the words "Man of Steel" in reference to the Doom Patrol. Stripping away history is never the goal, in any case. Digging down and finding history that has often been buried or lost is more the issue. Doom Patrol, for instance, had drifted far, far, far from its roots. If the object was to get back to them, we reasoned, we could spend six issues undoing a lot of what had gone before, or we could spare potential new readers all that and just hit "rewind." So we end up with the book I am doing, which has much more in common with the Drake/Premiani version than what followed.
Work History
External Links
References