Batman Character Guide [INTERACTIVE]
Play Sound
Looking for a different version of this character?
As a result of the New 52 in 2011, the entire line of DC characters was relaunched, incorporating properties belonging to the company's imprints: Wildstorm, Milestone, and Vertigo. As such, elements of this character's history have been altered in some way from the previous incarnation. For a complete list of all versions of this character, see our disambiguation page.
John Monroe is the Weasel, an animal-like supervillain and member of the Secret Society of Super-Villains.

History
Monroe was one of many villains invited to join the Secret Society of Super-Villains by the Crime Syndicate, an evil version of the Justice League from Earth 3. The Weasel was among the crowd of Society members who attended a meeting outside the destroyed Justice League Watchtower hosted by the Syndicate. The Syndicate announced to the villains that they had defeated the Justice League, and therefore they were free to do as they saw fit with the planet.[1]
Monroe subsequently joined the Menagerie, a group of animal-themed villains led by Cheetah that made their base in Central Park, New York City. He attempted to ambush Colonel Steve Trevor of A.R.G.U.S. and Killer Snow as they moved through the park. However, Trevor shot Weasel and Frost froze him in a block of ice. Frost proceeded to absorb the energy from Weasel's body to replenish herself, which seemingly killed Monroe.[2]

Powers and Abilities
Powers
Unique Physiology: Monroe had a peculiar physiology that gave him the appearance of an anthropomorphic weasel. Although he was deadly enough to be considered a supervillain, Killer Frost noted that Weasel wasn't powerful enough to pose much of a threat.[2]
Notes
Related
Quotations by or about John Monroe (Prime Earth)

Character Gallery: John Monroe (Prime Earth)
Footnotes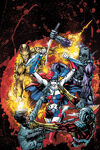 Suicide Squad member
This character is or was a member of the Suicide Squad, a team of imprisoned super-villains who perform high-risk missions for the U.S. Government in exchange for commuted sentences, in any of its various incarnations. This template will categorize articles that include it into the "Suicide Squad members" category.