History
Powers and Abilities
Powers
Cosmic Awareness: Jonni DC was the DCU's continuity cop who corrected the errors of writers and editors.[1]
Paraphernalia
Weapons
Notes
Although this character was originally introduced during DC's Earth-One era of publication, their existence following the events of the 1985–86 limited series Crisis on Infinite Earths remains intact. However, some elements of the character's Pre-Crisis history may have been altered or removed for Post-Crisis New Earth continuity, and should be considered apocryphal.

Trivia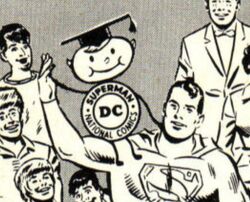 Jonni DC is based on Johnny DC, a character that was the personification of DC editorial and often "hosted" upcoming announcements or editorial notices. Johnny DC first appeared in a promotional page entitled "Meet Johnny DC" in Green Lantern (Volume 2) #17 and other comics issued 'December, 1962; drawn by Mike Sekowsky.
Related
Quotations by or about Jonni DC (New Earth)

Character Gallery: Jonni DC (New Earth)
Footnotes