Batman Character Guide [INTERACTIVE]
Play Sound
Looking for a different version of this character?
As a result of the New 52 in 2011, the entire line of DC characters was relaunched, incorporating properties belonging to the company's imprints: Wildstorm, Milestone, and Vertigo. As such, elements of this character's history have been altered in some way from the previous incarnation. For a complete list of all versions of this character, see our disambiguation page.
The Parasite is an enemy of Superman.

History
Joshua Michael Allen was originally a bike courier from Metropolis, until an alien flu granted him the power to absorb other people's power.
His life changed when he crashed into a green blob and suffered electric shocks, and then he lost consciousness. He awoke in the hospital, where he was diagnosed as suffering from alien flu. Then he was called into S.T.A.R Labs, where he was checked for a virus. But an explosion killed all the doctors and transformed him into Parasite. As Parasite, he drained the life of people around him, and he wanted to kill himself. However, the Man of Steel came just in time and when he touched Superman, he gained incredible strength. Therefore, leeching metahuman powers became his new obsession.[1]

Powers and Abilities
Powers
Weaknesses
Notes
Related
Footnotes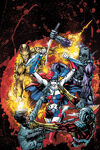 Suicide Squad member
This character is or was a member of the Suicide Squad, a team of imprisoned super-villains who perform high-risk missions for the U.S. Government in exchange for commuted sentences, in any of its various incarnations. This template will categorize articles that include it into the "Suicide Squad members" category.