Batman Character Guide [INTERACTIVE]
Play Sound
June Moone is the unfortunate human host of the magic entity the Enchantress.

History
Possible Post-Brainiac Epilogue
This section of history takes place in a timeline outside that of normal
Injustice
canon.
Upon beating "Classic" mode in
Injustice: Gods Among Us
or "Multiverse" mode in
Injustice 2
with any playable fighter, the player would receive a possible alternate ending to the game's story featuring their fighter. These alternate histories should not be seen as relevant to future sequels or comic adaptations.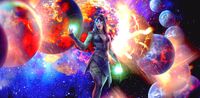 "When it comes to magic, even Brainiac has a lot to learn. He thought he could 'collect' the power of the Enchantress. So I let him have it. And sure enough, the old witch ate him alive. It was over. Brainiac was beaten. But even more miraculously ... the Enchantress was gone.
After years of that witch feeding on me, torturing me, corrupting me, I'm free. No more aliases, no more evil alter egos. I can just be June Moone. I got my old job back at the design studio. I even have a date this Friday! Piece by piece, I'm rebuilding my old life. Once I've - no! Get out of my head!"
"June, June, June. Did you really think you could dispose of me so easily? Brainiac's collection was a revelation: you and I have been thinking far too small. Why corrupt one Earth when we can bewitch all 52?"

Powers and Abilities
Powers
Abilities
Notes
Related
Quotations by or about June Moone (Injustice)

Character Gallery: June Moone (Injustice)
Footnotes
↑

Enchantress Injustice 2 Ending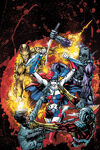 Suicide Squad member
This character is or was a member of the Suicide Squad, a team of imprisoned super-villains who perform high-risk missions for the U.S. Government in exchange for commuted sentences, in any of its various incarnations. This template will categorize articles that include it into the "Suicide Squad members" category.