Spider-Man: No Way Home Trailer Dropped - The Loop
Play Sound
Astronauts J. Allen Carter and Ed Reiss are exploring the surface of Mars when Carter pulls out a crystal he sees and triggers a small earthquake, falling into the newly-created chasm. He sees a giant door with strange markings coverin

Secret Origins, Part I is an episode of season 1 of Justice League. It premiered on November 17, 2001.

Synopsis for "Secret Origins, Part I"
Astronauts J. Allen Carter and Ed Reiss are exploring the surface of Mars when Carter pulls out a crystal he sees and triggers a small earthquake, falling into the newly-created chasm. He sees a giant door with strange markings covering it and pries it open with a pick-axe, and something massive reaches out to him.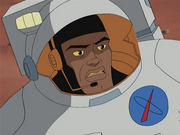 Two years later, Batman investigates a Wayne Technologies building near Metropolis. Three of the technicians there begin talking in an alien language and pull out a piece of strange technology. They place the device in the buildings satellite, and then the hero attempts to subdue them. The technicians fight back with incredible physical abilities, and Superman arrives to help, but he experiences a strange vision, which allows the aliens to detonate the satellite and escape. Superman gives Batman a communicator, which he places in his utility belt.
Later, Carter, the astronaut from Mars turned senator, is addressing a United Nations conference on a plan to disarm nuclear missiles and use Superman as a protective force instead. General Wells is skeptical, but Superman is confident that Carter's plan will work. The plan is shown to have been incredibly popular with the civilian public, though some people, such as the Flash are still unsure.
Batman tracks the Wayne Tech three scientists to a warehouse in Metropolis, where he finds the real technicians placed in alien looking containers. A dog suddenly leaps out at him, which is in fact an alien creature, and attacks the Dark Knight, prompting him to signal Superman. The Man of Steel saves Batman, and takes him to safety, and both of them watch as a meteor lands in the city. A large alien walker climbs out and starts attacking.
Superman tries fighting it, with Batman calling in the Batplane to fight, but both heroes prove ineffective against the walker. More meteors crash and unleash more walkers. Superman suddenly experiences another vision and, realising its meaning, flies away.
On the island of Themyscira, Princess Diana, watches from a distance, wondering if the Amazons should aid. Her mother Hippolyta states that the gods protect Themyscira and that Man's World is not their concern.
Batman tracks Superman to a military base, where they find a green skinned alien who Superman states is Earth's last hope. The alien introduces itself as J'onn Jonzz. The three leave the base and are confronted by an army who reveal themselves as white shapeshifting aliens. The army aim their weapons at the trio...

Appearing in "Secret Origins, Part I"
Featured Characters:
Supporting Characters:
Antagonists:
Other Characters:
Howie (First appearance)
Ed Reiss (Single appearance) (Dies)
Locations:
Items:
Vehicles:
Notes
Trivia
See Also
Recommended Media
Links and References
Footnotes