Batman Character Guide [INTERACTIVE]
Play Sound
Looking for a different version of this character?
As a result of the New 52 in 2011, the entire line of DC characters was relaunched, incorporating properties belonging to the company's imprints: Wildstorm, Milestone, and Vertigo. As such, elements of this character's history have been altered in some way from the previous incarnation. For a complete list of all versions of this character, see our disambiguation page.
Klarion is a powerful young witch boy, whose magical manipulations see him act as both a hero and a villain. He is has been a member of several groups, such as Suicide Squad Black, Seven Soldiers of Victory, and most recently the Injustice League Dark. His familiar is a cat named Teekl.

History
Powers and Abilities
Powers
Magic: Like most people in Limbo Town, Klarion has been trained in the dark arts, allowing him to achieve a variety of effects, including but not limited to:
Abilities
Paraphernalia
Equipment
Teekl: The source of Klarion's powers is a magical familiar who resembles a house cat. If the cat is injured Klarion's power is reduced greatly.
Notes
Related
Footnotes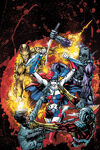 Suicide Squad member
This character is or was a member of the Suicide Squad, a team of imprisoned super-villains who perform high-risk missions for the U.S. Government in exchange for commuted sentences, in any of its various incarnations. This template will categorize articles that include it into the "Suicide Squad members" category.