Looking for a different version of this character?
As a result of the New 52 in 2011, the entire line of DC characters was relaunched, incorporating properties belonging to the company's imprints: Wildstorm, Milestone, and Vertigo. As such, elements of this character's history have been altered in some way from the previous incarnation. For a complete list of all versions of this character, see our disambiguation page.
Lagoon Boy originally hailed from the underwater city of Atlantis, when he was a teenager he joined the surface superhero team known as the Titans East.

History
Eventually most of his team were massacred by an unknown assailant. This drove Lagoon Boy to seek out mental help, as he had been traumatized by the death of his teammates.[1] He traveled to a place called Sanctuary where super-heroes went to seek out help. During his stay at the Sanctuary he was shot by a laser repeatedly as a form of therapy.[2] He was accidentally killed by a fellow patient who went into distress and lost control of his powers, fatally blasting Lagoon Boy and others who had approached out of concern.[3]

Powers and Abilities
Powers
Atlantean Physiology: The Atlanteans are offshoots of humanity that are biologically adapted to the deep ocean environment. All their abilities are by-products of their bodies being adapted to survive unprotected in the tremendous pressures of the ocean depths.
Amphibious Telepathy: In a manner similar to Aquaman's Marine Telepathy, Lagoon Boy was able to control the minds of amphibians.[1]
Notes
Related
Quotations by or about Lagoon Boy (Prime Earth)

Character Gallery: Lagoon Boy (Prime Earth)
Footnotes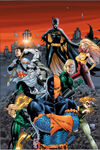 Titans East member

This character is or was a member of the Titans East in any of its various incarnations. This template will categorize articles that include it into the "Titans East members" category.