Spider-Man: No Way Home Trailer Dropped - The Loop
Play Sound
Larvox was a member of the Green Lantern Corps.

History
Origin
Larvox is an asexual being from the planet Sputa, which has a very unique evolutionary cycle. Here insects, bacteria and plants became more prominent than mammals. All denizens share in a community with no true individuality. This is done in harmony with the planet, and not something imposed by their society. It was this free will that allowed Larvox to be a longstanding member of the Green Lantern Corps.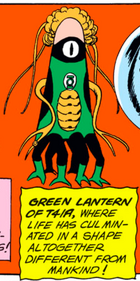 A veteran Green Lantern, Larvox fiercely guarded his sector until the fall of the Corps. He jumped at the opportunity to become a Darkstar when they formed, but when the Corps re-formed, Larvox gladly returned for duty.
Mute, Larvox can only converse using his ring. But what he lacks in words, he has more than made up in actions as he fought alongside Hal Jordan and the Corps through many important conflicts such as stopping an invasion by the Weaponers of Qward and a confrontation with Nekron, the Lord of Death.

Powers and Abilities
Powers
Abilities
Weaknesses
Mute: Larvox is mute. He does not have vocal cords nor can he speak through any means other than his Green Lantern Ring. If he is separated from his ring for any reason he won't be able to speak to other beings let alone make any sound.

Paraphernalia
Equipment
Weapons
Notes
Although this character was originally introduced during DC's Earth-One era of publication, their existence following the events of the 1985–86 limited series Crisis on Infinite Earths remains intact. However, some elements of the character's Pre-Crisis history may have been altered or removed for Post-Crisis New Earth continuity, and should be considered apocryphal.

Trivia
Larvox is unable to speak and communicates using his Power Ring.
Larvox is a fierce, unflinching warrior as well as having unswerving dedication to the Green Lantern Corps. However it is known that he was one of the first to sign up for the Darkstars.
In his first appearance, Larvox was introduced as originating from "T41A" rather than Sputa.
Related
Quotations by or about Larvox (New Earth)
Footnotes