Looking for a different version of this character?
As a result of the New 52 in 2011, the entire line of DC characters was relaunched, incorporating properties belonging to the company's imprints: Wildstorm, Milestone, and Vertigo. As such, elements of this character's history have been altered in some way from the previous incarnation. For a complete list of all versions of this character, see our disambiguation page.
Bolt is a former enemy of Batgirl, recruited into the Suicide Squad.

History
Alongside Film Freak, Peacemaker and Shrike, Bolt was tasked with extracting the assassin Talon from Arkham Asylum. Bolt teleported the team into the facility, where they located and freed their target. However Talon, who was in a poor mental state, used a shiv to slice Bolt's throat.[1]

Paraphernalia
Equipment
Notes
Related
Quotations by or about Lawrence Bolatinsky (Prime Earth)
Footnotes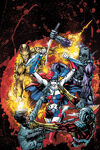 Suicide Squad member
This character is or was a member of the Suicide Squad, a team of imprisoned super-villains who perform high-risk missions for the U.S. Government in exchange for commuted sentences, in any of its various incarnations. This template will categorize articles that include it into the "Suicide Squad members" category.