Batman Character Guide [INTERACTIVE]
Play Sound
You're finished, Superman. Before I'm gone the world will tremble at the name Lex Luthor!

— Lex Luthor
Lex Luthor was Metropolis' greatest criminal mastermind and sworn enemy of Superman.

History
Powers and Abilities
Abilities
Paraphernalia
Equipment
Notes
Related
Footnotes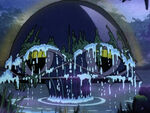 Legion of Doom member
This character is or was a member of the Legion of Doom, a team of supervillains called together for the purpose of conquering the world and defeating the Super Friends, in any of its various incarnations. This template will categorize articles that include it into the "Legion of Doom members" category.