"Batman: "Night of the Reaper!"": This story is reprinted from Batman #237. Limited Collectors' Edition #C-52 is an issue of the series Limited Collectors' Edition (Volume 1) with a cover date of October, 1977.

Synopsis for Batman: "Night of the Reaper!"
This story is reprinted from Batman #237.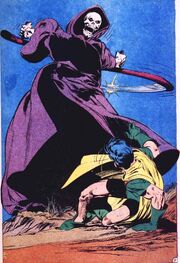 On Halloween, the annual Vermont parade is taking place and Dick Grayson has decided to attend with some of his college friends. While in the parade, Dick and his friends notice some crooks attacking a man dressed as Robin and they try to help the young man without success. When the crooks have dispersed, Dick decides to follow them as Robin and he follows their trail to a barren space where he finds a the corpse of a man in a Batman costume. At that moment, Robin is attacked by the dark figure of the Reaper and he is forced to flee until he falls down to a nearby river and remains unconscious.
Batman, who has been tracking fugitive Nazi war criminal Kurt Schloss to the annual Halloween parade, finds Robin and takes him to the house of Tom Fagan, the organizer of the Vermont parade. In Fagan's place, Robin is checked by Batman's friend, Doctor Benjamin Gruener, a Jewish German survivor of the Nazi holocaust.
Meanwhile, Dick's friends are looking for him when they come across the Reaper again and when Batman learns of this second attack, he starts investigating the case more closely. His clues lead him to find that other ex-Nazis have been searching for Kurt Schloss because he had claimed some hidden Nazi treasure that they believed belonged to all of them. Those Nazis had killed the man in the Batman costume and tried to kill the Robin, thinking they may be the real things. Batman stops them for good, but not before they are able to kill Schloss.
Afterwards, Robin believes that the case is solved, but Batman reminds him that the Reaper is still on the loose and Batman starts looking for the killer by himself. When they finally meet, Batman has deduced the Reaper's identity as Dr. Gruener, who sought revenge on Schloss. Unfortunately, Gruener has lost himself in his Reaper's personality and he attacks Batman before fleeing the scene. The Reaper tries to make his escape through a nearby dam, but he is stopped by the presence of Dick Grayson's friend Alan. When Reaper gets ready to strike and kill the youngster, he sees Alan's Star of David amulet and Gruener becomes horrified with his actions. Unaware that he was walking on the edge of the dam, Gruener stumbles with his robe and falls downwards to his ultimate death and Batman is unable to save the man.

Appearing in Batman: "Night of the Reaper!"
Featured Characters:
Antagonists:
Other Characters:
Locations:
Synopsis for "The Demon Within!"
This story is reprinted from House of Mystery #201.
When a family concerned with their social standing within the community discover that their little boy has the ability to shape-change into a demon, they have the child lobotomized so that his behavior does not continue to embarrass them.

Appearing in "The Demon Within!"
Narrator:
Characters:
Gary Winters
Mr. Winters (Gary's father)
Mrs. Winters (Gary's mother)
Kathy Winters (Gary's sister)
Locations:
Items:
Vehicles:
Synopsis for Flash: "The Doorway to the Unknown!"
This story is reprinted from The Flash #148.
The Flash gets a visit from a repentant crook named Fred Dallman, who puts him on the trail to save the life of a man he framed for his crime, and who, in turn, gets him to save his brother from a life of crime. But when the speedster mentions Dallman's name to the police, he learns that Dallman died last night at midnight--precisely the time he appeared to the Flash.

Appearing in Flash: "The Doorway to the Unknown!"
Featured Characters:
Locations:
Synopsis for "Dirty Job"
This story is reprinted from Our Army at War #241.

Appearing in "Dirty Job"
Characters:
Synopsis for "Firehair"
This story is reprinted from Tomahawk #136.

Appearing in "Firehair"
Featured Characters:
Supporting Characters:
Antagonists:
Other Characters:
Locations:
Synopsis for Superman: "The Last Days of Superman!"
This story is reprinted from Superman #156.
When an unmanned space satellite is threatened to impact with a mysterious object in space, Jimmy Olsen calls Superman to help out. The Man of Steel pushes the satellite out of the way, and realizes that the object is made of Green Kryptonite, he uses the satellite's discarded booster rockets to knock the object to a deserted part of Metropolis. With Jimmy Olsen, Superman reads the glowing object and learns that it was from Krypton, and contained a sample of Virus X, a deadly plague that could kill Kryptonians. At a safe distance, Superman smashes the glowing object with a rock while Jimmy Olsen snaps a picture.
When Superman suddenly feels weak, he realizes that he may have been infected with Virus X. Jimmy takes Superman to the hospital to be diagnosed. A doctor tells Jimmy, Lois, Perry and Lana Lang that Superman does appear to be weakening and is at risk of death. Superman slips out to his Fortress of Solitude and ponders at all the things he still needs to accomplish and also worries that he might also infect Supergirl with Virus X.
Returning to Metropolis to visit the Daily Planet, Superman announces that in the next 30 days he's going to attempt to accomplish the most important tasks that he wanted to carry out for the Earth before he dies of Virus X. Although weakened, Superman attempts to use a giant shovel to dig canals around the Earth as a complex irrigation system but is too weak to do the job.
Still wishing to carry on his final tasks, Superman calls in his Superman Robots to build a quarantine room for him so that he can command his friends on how to carry out his final wishes. While Jimmy Olsen's friend stays by the Man of Steel's side, Superman summons Supergirl, Krypto and the Legion of Super-Heroes to carry on his final tasks. With their aid he manages to build the irrigation system that he had originally intended. Becoming too weak to do any more, Superman returns to his quarantine room.
Supergirl leads the Legion of Super-Heroes on a number of tasks outline by Superman: They destroy a a distant planet on a collision course with Earth, collect enough metal to destroy a space fungus that threatens to destroy all life it comes into contact with, and create an artificial sun in Antarctica so that the continent can be terraformed to support human life. As this is going on, Brainiac 5 works tirelessly trying to find a cure for Virus X, but fails to do so.
With Superman's time running out, the Legion and Supergirl save Atlantis from the threat of a radioactively mutated sea creature. Superman reflects on his life and goes about saying goodbye to his friends Batman and Robin before writing a farewell message on the surface of the Moon that also reveals his secret identity. Satisfied with his accomplishments, Superman waits for his impending death, however Supergirl is not ready to give up. Traveling through time, she arrives on Krypton of the past where she learns that a cure was made, however it would prove to be lethal to all other life in the universe. With no other choice, Supergirl returns to the present to await her cousin's death.
As Superman's condition worsens, Saturn Girl is telepathically contacted by Mon-El from the Phantom Zone. Mon-El explains that Superman is not suffering from symptoms of Virus X, but from Kryptonite poisoning and reveals that a fragment of Kryptonite was embedded in Jimmy Olsen's camera when he snapped a picture of Superman destroying the Kryptonite laced contained containing the virus. With the chunk of Kryptonite found and removed, Superman miraculously returns to full health, and before anyone can see the message revealing his identity, he, Supergirl and Krypto combine their x-ray vision to erase the message. With Superman alive and well, the Legion of Super-Heroes are thanked for all their help and they return to their own time.

Appearing in Superman: "The Last Days of Superman!"
Featured Characters:
Supporting Characters:
Other Characters:
Locations:
Earth
Unnamed Uninhabited Planets
Items:
Element 202
Fungus Cloud
Iron
Vehicles:
See Also
Recommended Reading
Links and References
Community content is available under
CC-BY-SA
unless otherwise noted.