Batman Character Guide [INTERACTIVE]
Play Sound
Looking for a different version of this character?
As a result of the New 52 in 2011, the entire line of DC characters was relaunched, incorporating properties belonging to the company's imprints: Wildstorm, Milestone, and Vertigo. As such, elements of this character's history have been altered in some way from the previous incarnation. For a complete list of all versions of this character, see our disambiguation page.
Lor-Zod is the biological son of General Zod and Ursa.

History
Origin
He was conceived and born in the Phantom Zone. He and his mother were freed from the Phantom Zone when Lor was around the age of 10 by his father using the Phantom Zone Projector when Zod and Eradicator, assisted by their former allies the Superman Revenge Squad, attacked Superman in the Fortress of Solitude.[1]
Lor-Zod and his parents fled Earth and took up refuge on the planet Jekuul which boasted 2 yellow suns. The native population revered the House of Zod as gods and so the family took over the planet naming it New Krypton.[2]
Lor's father began constructing a new civilization on New Krypton abstracting resources from local systems. Eventually this gained the attention of the Green Lantern Corps who sent Green Lanterns Hal Jordan and Kyle Rayner to investigate. Zod went to greet the Lanterns but was attacked prompting the family to brutally defeat them and imprison them.[2] Zod then gave Eradicator the task of analyzing their Green Lantern Rings to uncover the secrets of the corp. After numerous attempts to negotiate with Jordan he summoned his ring from its containment chamber and attempted to escape but were stopped by the locals who had weapons capable of piercing through constructs. Jordan then gave his ring to Rayner and sent him back to their headquarters on Mogo.[3]
Shortly after the escape Rayner arrived back with a Lantern strike force of 8 and began fighting the locals. Lor and his parents then attacked the Lanterns to buy time for Eradicator to finish his analysis of the ring.
Joining the Suicide Squad
Incomplete
There's something missing here. This section of the article is incomplete, and contains information, but requires more before it can be considered
complete
. You can help DC Database by editing this page, providing additional information to bring this article to a higher standard of quality.
Powers and Abilities
Powers
Kryptonian Physiology: Under the effects of a "yellow" sun, Lor-Zod possesses the same potential powers as an average Kryptonian. These include:
Phantom Zone Immunity: Because Lor-Zod was conceived and born in the Phantom Zone, he is actually immune to the Zone's effects and is the only denizen who can maintain a corporeal form.
Abilities
Weaknesses
Kryptonian Physiology: Under the effects of a "yellow" sun, Lor-Zod possesses the same potential weaknesses as an average Kryptonian. These include:
Notes
Related
Character Gallery: Lor-Zod (Prime Earth)
Footnotes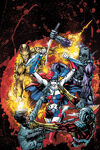 Suicide Squad member
This character is or was a member of the Suicide Squad, a team of imprisoned super-villains who perform high-risk missions for the U.S. Government in exchange for commuted sentences, in any of its various incarnations. This template will categorize articles that include it into the "Suicide Squad members" category.