History
Ma'alefa'ak J'onzz is a member of the Legion of Doom. Disguised as a human woman, he gives Martian Manhunter a drink that causes him to sweat magnesium, which sets him on fire; the latter burned until Wonder Woman arrived with an antidote.
Martian Manhunter later battled him in the Hall of Doom, where Ma'alefa'ak J'onzz was incinerated by the ignition of Vandal Savage's doomsday weapon.

Powers and Abilities
Powers
Martian Physiology: The average Martian possesses the potential for the following power set:

Shape-Shifting: Martians have psionic control of their physical for down to the molecular level. This allows them to a form of shape-shifting that allows them to mimic other forms, elongate aspects of their body, increase or decrease their physical size, and so on.
Invisibility: Martians can cause the biopolymers in their bodies to lose their ability to reflect light, making the Martians invisible to normal light and human sight.[1]
Phasing: Martians can go through solid matter.
Martian Vision: Martian visual acuity greatly exceed human norms and allows for a wider range of information to be observed. This includes the following:[1]
Telepathy: Martians have the ability to read the minds of others and project their thoughts to varying degrees. They can also project their mental essences into a gestalt community known as the "Great Mind". Through this, the community can enhance the telepathic strength of other Martians. This power can also enable them to reverse the effects of amnesia or psychological brainwashing. [1]

Mind Control: As an extension of this, Martians can also use the ability to alter a psychological profile of a target, enabling them to manipulate, and in some cases, outright control that individual. This practice is greatly discouraged however, and only rarely used. [5]
Abilities
Notes
Related
Links
Footnotes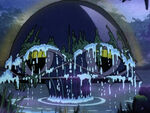 Legion of Doom member
This character is or was a member of the Legion of Doom, a team of supervillains culled together for the purpose of conquering the world and defeating the Super Friends, in any of its various incarnations. This template will categorize articles that include it into the "Legion of Doom members" category.
Community content is available under
CC-BY-SA
unless otherwise noted.