History
Ma'alefa'ak J'onzz is a member of the Legion of Doom. Disguised as a human woman, he gives Martian Manhunter a drink that causes him to sweat magnesium, which sets him on fire; the latter burned until Wonder Woman arrived with an antidote.
Martian Manhunter later battled him in the Hall of Doom, where Ma'alefa'ak J'onzz was incinerated by the ignition of Vandal Savage's doomsday weapon.

Powers and Abilities
Powers
Notes
Related
Links
Footnotes
↑ The powers and weaknesses listed are based on the common abilities of Martians first demonstrated by J'onn J'onzz. The refrences listed are based on J'onzz as depected in the Earth-One and New Earth continuities.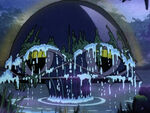 Legion of Doom member
This character is or was a member of the Legion of Doom, a team of supervillains culled together for the purpose of conquering the world and defeating the Super Friends, in any of its various incarnations. This template will categorize articles that include it into the "Legion of Doom members" category.
Community content is available under
CC-BY-SA
unless otherwise noted.