Batman Character Guide [INTERACTIVE]
Play Sound
The Man-Bat Commandos are a group within the League of Assassins who use Man-Bat Serum to turn themselves into Man-Bats. They are led by Talia al Ghul.
History
Talia al Ghul and the League of Assassins paid a visit to Kirk Langstrom. As part of his threat to him, Talia arranged for some League of Assassins operatives to kidnap his wife Francine and inject her with a degenerative neuro-bacillus that will cripple her in 24 hours unless he delivers them the Man-Bat Serum. He complies with them and a select number of League of Assassins operatives are turned into Man-Bat Commandos. They first appear where they attack a gala in London that was being attended by Bruce Wayne.[1] The Man-Bats attempt to kidnap the Prime Minister's wife, but Batman takes down all six of them. Many more arrive, and Alfred evacuates the building with Jezebel. Batman uses super-sonics and takes out 30 of them, but they overwhelm him and knock him out. When Batman regains consciousness in the sewers and finds the Prime Minister's wife tied to a chair, the Man-Bat Commandos hold Batman when Talia al Ghul appeared stating that she has taken control of her late father's organization and introduces him to his son.[2]
After Talia learned about the Black Glove's involvement on the disappearance of Batman, she sent the Man-Bat Commandos to eliminate every member of the organization, starting with Jezebel Jet. The Man-Bats attacked the airplane where Jet was flying to escape Gotham and most likely they destroyed it, killing everyone traveling on the plane.[3]
See Also
Recommended Reading
Links and References
Footnotes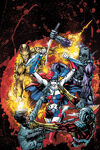 Suicide Squad member
This character is or was a member of the Suicide Squad, a team of imprisoned super-villains who perform high-risk missions for the U.S. Government in exchange for commuted sentences, in any of its various incarnations. This template will categorize articles that include it into the "Suicide Squad members" category.