Looking for a different version of this character?
As a result of the New 52 in 2011, the entire line of DC characters was relaunched, incorporating properties belonging to the company's imprints: Wildstorm, Milestone, and Vertigo. As such, elements of this character's history have been altered in some way from the previous incarnation. For a complete list of all versions of this character, see our disambiguation page.
Change the hair, add some glasses and a few extra years-- Magpie!

— Batgirl
Magpie, real name Margaret Pye, is an enemy to the Bat-Family and a member of the Suicide Squad.

History
Margaret was arrested during the events of City of Bane by Batman and Catwoman. She was taken to Belle Reve where she joined the Suicide Squad. On her first mission, they were sent to battle rebel fighters. Magpie went first and infiltrated the submarine where the rebels were based. However, Thylacine, hiding in the shadows, attacked and killed her before she could get far.[1]

Powers and Abilities
Powers
Abilities
Weaknesses
Paraphernalia
Weapons
Notes
Related
Footnotes
Batgirl Villain(s)

This character, team, or organization, is or was primarily an enemy of Batgirl. This template will categorize articles that include it into the "Batgirl Villains category."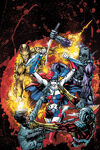 Suicide Squad member
This character is or was a member of the Suicide Squad, a team of imprisoned super-villains who perform high-risk missions for the U.S. Government in exchange for commuted sentences, in any of its various incarnations. This template will categorize articles that include it into the "Suicide Squad members" category.
Community content is available under
CC-BY-SA
unless otherwise noted.