Batman Character Guide [INTERACTIVE]
Play Sound
Maxie Zeus is an Olympian-themed motivational speaker on crime, based in Gotham City. He was a successful thief in his early years, and later fought Harley Quinn and her crew.

History
Powers and Abilities
Powers
Abilities
Other Characteristics
Notes
Related
Footnotes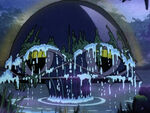 Legion of Doom member
This character is or was a member of the Legion of Doom, a team of supervillains called together for the purpose of conquering the world and defeating the Super Friends, in any of its various incarnations. This template will categorize articles that include it into the "Legion of Doom members" category.