History
Michael Beldon is the son of "Brains" Beldon, a criminal genius that had tangled with Batman. 'Brains' wanted a seat in the criminal organization known as the H.I.V.E. and to prove himself, he created a high-tech costume that could disrupt the natural order of things. Michael constantly sought his father's approval and, in a bid to earn the respect of his father, wore the costume and called himself the Disruptor.
At the H.I.V.E.'s request, the Disruptor hunted down the members of the Teen Titans. If The Disruptor could kill them, the seat in the H.I.V.E. would be given to "Brains" Beldon. Disruptor was effective in combat, almost killing Cyborg, Changeling and Wonder Girl with his disruption powers. Kid Flash himself was captured by the Disruptor and his father, "Brains" Beldon. The Titans counter-attacked, only to have the Disruptor turn their own powers against them, until he was defeated by Raven's soul-self.
Upon his defeat, the H.I.V.E. rescinded their offer to "Brains" Beldon. Michael went to jail, taking the rap for his father. Nonetheless, his father rebuffed him, leaving Michael devastated.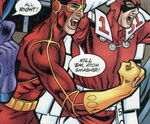 Some time later, Wildebeest sprang the Trident from jail, as well as Gizmo, the Puppeteer and the Disruptor. These villains were eventually recaptured by the Titans. The Disruptor resurfaced later to battle Arsenal's team of Titans; he was defeated once again.

Notes
Although this character was originally introduced during DC's Earth-One era of publication, their existence following the events of the 1985–86 limited series Crisis on Infinite Earths remains intact. However, some elements of the character's Pre-Crisis history may have been altered or removed for Post-Crisis New Earth continuity, and should be considered apocryphal.
Related
Footnotes
Community content is available under
CC-BY-SA
unless otherwise noted.