Batman Character Guide [INTERACTIVE]
Play Sound
Nam-Ek was a Kryptonian scientist obsessed with becoming immortal through the healing power of the Rondor horn but was transformed into a deformed human-Rondor.

History
Nam-Ek was born on the distant planet Krypton, some 500 years before its destruction He became a ruthless scientist devoted to the pursuit of learning all knowledge. At the time, Kryptonians would travel to the Scarlet Jungle to be healed by the Rondors, hideous, foul-smelling beasts whose horns emitted a unique radiation that healed all injuries and sicknesses in seconds. Nam-Ek killed two of the Rondors to extract a serum from their horns that he believed would make him immortal. Four people then died because no Rondors were available to cure them, so Nam-Ek was charged with murder. Facing imprisonment or execution, Nam-Ek fled from the police to the long-deserted city of Xan. [1] There Nam-Ek drank his Rondor horn extract serum, and it did grant him the desired immortality. However, it also had the terrible side-effect of transforming him into an ugly human-Rondor hybrid, with warty purple skin, a terrible stench, and a Rondor-like horn in the middle of his forehead. For 500 years, Nam-Ek lived alone in Xan and continued his scientific research, even curing the dreaded Virus X.  Then, lonely and needing companionship, he tried to make contact with his fellow Kryptonians, but they drove him away. He returned to the Scarlet Jungle to sturdy the Rondors and find a way to reverse the immortality serum.  However, at that moment, Krypton exploded and Nam-Ek was left to drift alone in space. [1]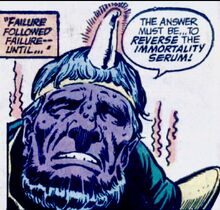 Years later, Nam-Ek was found by the space pirate Amalak. Amalak had a deep-seated hatred of all things Kryptonian but found that he could not kill Nam-Ek by any means and could only imprison him. When Amalak's spaceship came near a yellow sun, Nam-Ek gained super-powers and escaped to warn Superman of Amalak's plan to unleash a plague on Earth.[2]
However, Superman mistakenly accused Nam-Ek of being the cause of the plague that had already broken out at a journalists' conference in Central City. This lead to a furious battle where Nam-Ek punched the Flash into orbit around the Earth. His attempt to help Superman having been rejected, Nam-Ek then allied with his former enemy Amalak.  However, Superman was able to capture Nam-Ek and then use the healing radiation from Nam-Ek's horn to cure the Journalist's plague.[3] Superman and Supergirl then imprisoned Nam-Ek in the Phantom Zone because Superman believed him to be insane and too dangerous to leave free while possessing Kryptonian super-powers and immortality[4].
Nam-Ek subsequently escaped the Zone, when the Phantom Zoners compelled the confused Quex-Ul to create a flawed Phantom Zone Projector that blasted them free. Nam-Ek was burned to a husk by the power of Nadira, but the power of his Rondor physiology restored him just in time to be captured by Wonder Woman and be returned to the Phantom Zone.[5][6]
There was a second escape for Nam-Ek when the Kryptonian wizard Thul-Kar magically caused the destruction of Htrae, which tore open the barrier separating the Zone from the material dimension. As Superman struggled to repair the damage, and to contain the super-powered Kryptonian criminals, Nam-Ek remembered his previous burning and defeat, so was content to sit with Thul-Kar and wait out the conflict.[7]
The Phantom Zone's god Aethyr merged with Mister Mxyzptlk so as to exist in the Earth's dimension and re-absorbed the Kryptonian villains--including Nam-Ek--into himself and went off into space.[7]

Powers and Abilities
Powers
Kryptonian Physiology: Under the effects of a "yellow" sun, Nam-Ek possesses the same potential powers as an average Kryptonian. These include:
Abilities
Weaknesses
Kryptonian Physiology: Under the effects of a "yellow" sun, Nam-Ek possesses the same potential weaknesses as an average Kryptonian. These include:
Notes
This version of Nam-Ek, including all history and corresponding appearances, was erased from existence following the collapse of the original Multiverse in the 1985–86 Crisis on Infinite Earths limited series. Even though versions of the character may have since appeared, this information does not apply to those versions.
Related
Footnotes