Batman Character Guide [INTERACTIVE]
Play Sound
Nanaue, better known as King Shark, is a friendly, easy-going, tech-savvy shark monster who works with Harley Quinn and her crew.

History
Powers and Abilities
Powers
Abilities
Weaknesses
Other Characteristics
Blood Hunger: Even a little drop of blood can turn King Shark into a berserk state. In that state he will not stop until he eats someone or passes out.
Notes
Trivia
Based on King Shark's interactions with kids (ex: being against Harley killing Robin; showing concern for the child version of Harley in her mind), it seems he has a soft spot for children and wouldn't willingly do harm to them.
The shark repellent used to knock him out by the Batman is a reference to the classic Adam West-lead Batman TV series.
Related
Character Gallery: Nanaue (Harley Quinn TV Series)
Footnotes


Robin Villain(s)
This character, team or organization, is or was primarily an enemy of any of the young heroes who have been known as Robin. This template will categorize articles that include it into the category "Robin villains."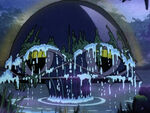 Legion of Doom member
This character is or was a member of the Legion of Doom, a team of supervillains called together for the purpose of conquering the world and defeating the Super Friends, in any of its various incarnations. This template will categorize articles that include it into the "Legion of Doom members" category.