Poison Ivy was a student at Super Hero High.

History
Poison Ivy was changed forever when a lab experiment went wrong and it granted her the ability to control plants. Trying to blossom into her new life, Poison Ivy adapts to her new powers by attending Super Hero High.

Expand
This section of the article does not provide a complete profile of the subject. You can help out by providing additional information, expanding on the subject matter in order to bring this article to a higher standard of quality.
This template will categorize articles that include it into Category:Incomplete Articles.
Powers and Abilities
Powers
Toxic Touch: Ivy treats all the plants as equals, and will do whatever it takes to protect them.
Chlorokinesis: When she's not outdoors, Ivy is planted in her lab. That's where she figured out how to make plants grow from acorn to giant oak in the blink of an eye.
Abilities
Botany: She makes the plants do her bidding, but she also nurtures them.
Notes
Trivia
Poison Ivy is known as the Toxic Wallflower and the Garden Variety Misfit due to her scientific genius, shy and idealistic nature.
Related
Footnotes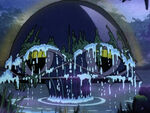 Legion of Doom member
This character is or was a member of the Legion of Doom, a team of supervillains culled together for the purpose of conquering the world and defeating the Super Friends, in any of its various incarnations. This template will categorize articles that include it into the "Legion of Doom members" category.
Community content is available under
CC-BY-SA
unless otherwise noted.