Batman Character Guide [INTERACTIVE]
Play Sound
In this alternate timeline, Eel O'Brian is a super-villain and a member of the Legion of Doom.

History
O'Brian is responsible for breaking Heat Wave out of prison by hiding in the body of his cellmate Cluemaster.[1] He assists the other villains in leading a massive prison break.[2] Heat Wave betrays O'Brian and apparently murders him, using his flame gun to melt him to death. He survives and returns to take revenge on Heat Wave when he has been returned to prison. It is implied that he murders him.[3]

Powers and Abilities
Powers
Related
Quotations by or about Patrick O'Brian (Flashpoint Timeline)
Footnotes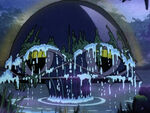 Legion of Doom member
This character is or was a member of the Legion of Doom, a team of supervillains called together for the purpose of conquering the world and defeating the Super Friends, in any of its various incarnations. This template will categorize articles that include it into the "Legion of Doom members" category.