"Lust in Space": In the Outlands of planet Valeron, Vartox beats down a raid of Kashkavonian yeti pirates. However, the pirates have launched a contraception bomb in order to reclaim Valeron after their inhabitants' gradual extinction. After several days the Valeronian

Let those who would threaten his people taste the raw destructive power of Vartox the Hyper-Man!

— Vartox
Power Girl (Volume 2) #7 is an issue of the series Power Girl (Volume 2) with a cover date of February, 2010. It was published on December 16, 2009.


Appearing in "Lust in Space"
Featured Characters:
Supporting Characters:
Antagonists:
IX Negaspike
Joker (Mentioned only)
Other Characters:
JSA (Mentioned only)
Groovicus Mellow
Locations:
Items:
Vehicles:
Vartox's Interstellar head ship


Synopsis for "Lust in Space"
In the Outlands of planet Valeron, Vartox beats down a raid of Kashkavonian yeti pirates. However, the pirates have launched a contraception bomb in order to reclaim Valeron after their inhabitants' gradual extinction. After several days the Valeronian Council determines that, indeed, the whole population has been sterilized, but Vartox has started looking for a suitable woman with whom to continue the species. He learns of Power Girl and decides someone with such assets and power who has managed to outlive her universe will be the perfect genetic donor. Certain of his wooing talents, Vartox gets ready his interstellar headship, but just in case he decides to bring along a couple of safeties.
In New York City, Power Girl and Doctor Mid-Nite are in the midst of a fight with the Blue Snowman. They easily defeat the foe and are wondering why that kind of villains commit robberies instead of legally making money off patenting their inventions when Vartox's headship descends, and his owner proclaims loudly his intention of winning Power girl over. Seeing Power Girl doesn't seem interested, he shoots his seduction musk rifle. The foul odor is strong enough to knock Doctor Mid-Nite out, but Power Girl is immune.
Power Girl gets angry at the fact her teammate is down and Vartox is still rambling on about romancing her thanks to his physical prowess. Power Girl punches Vartox, and Vartox concludes such a strong woman like Kara needs him to prove his own manly power. So he lets loose an indestructable planet-eater creature known as IX Negaspike. Kara gets horrified, even more so when the monster devours Blue Snowman, so she quickly takes Mid-Nite to safety. As she is away, IX Negaspike smashes Vartox away and accidentally breaks Vartox's teleporting mechanism into pieces.
Power Girl has no time for Vartox and begins fighting the monster. Kara manages to get it out of New York, but she doesn't appear to be able to defeat it, and she finds out Vartox doesn't know its weak point, either. He intended to teleport the Negaspike back to its dimensional plane once she got impressed enough, but his teleporting device got broken. Out of patience, Power Girl freezes it with her arctic breath, then smashes it to pieces. As Vartox had warned however, the creature is indestructable and begins replicating.
Notes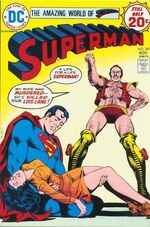 Trivia
See Also
Recommended Reading
Links and References
Community content is available under
CC-BY-SA
unless otherwise noted.