Wiki Targeted (Entertainment)
Play Sound
He just aged several years in one day!

— Lara
Prym-El is the younger brother of Superman. He was corrupted by Darkseid and Lex Luthor, but eventually became the superhero Unknown Superman.

History
Early Life
Prym-El was born to Lara and Jor-El on Kandor. As Lara spend much of the pregnancy in the Phantom Zone, his DNA was altered, turning him into a Kryptonian-Brainiac hybrid.[1] He aged rapidly, first being able to fly, then quickly becoming a child and developing the ability to speak.[2] Brainiac killed Jor-El, starting a fight with Superman. Prym-El tried to stop the fight, but was manipulated by Brainiac into joining him in the Legion of Doom. Lara chased them down and crashed Brainiac's Skull Ship. Prym-El emerged as an adult, with Brainiac going behind her with the Phantom Zone Projector.[3] He freaked out and tried to take the projector from Brainiac, inadvertently sending all of New Krypton into the zone. This enraged Prym-El, first destroying the Legion's base before turning his attention to his brother's allies, the Justice League. After defeating most of them, he was confronted by the Unknown Superman. He revealed himself as Pryme's future self, before taking him into the future.[4]
The Future Future
He eventually fulfilled his destiny and became Unknown Superman. He frequently traveled to the past and became an ally to the Superman Family, helping mentor Superboy and his own cousin, Kara Zor-El.[5] One adventure had him traveling back to the day of his birth and defeating his nemesis, Composite Superman, before he could harm an infant Prym.[1] Not long after Prym-El's birth, the Unknown Superman traveled back to the past to find a manipulated Superman Pryme attacking the Justice League. He confronted his counterpart and took him to the future in hoping of reforming him, continuing the paradox.[4]

Powers and Abilities
Powers
Abilities
Weaknesses
Paraphernalia
Equipment
Related
Footnotes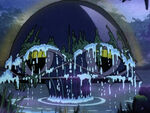 Legion of Doom member
This character is or was a member of the Legion of Doom, a team of supervillains culled together for the purpose of conquering the world and defeating the Super Friends, in any of its various incarnations. This template will categorize articles that include it into the "Legion of Doom members" category.
Justice League Villain

This character is or was primarily an enemy of the Justice League, in any of its various incarnations. This template will categorize articles that include it into the category "Justice League Villains."