Batman Character Guide [INTERACTIVE]
Play Sound
Rann-Thanagar War was a 2005 event written by Dave Gibbons with art by Ivan Reis. The titular war between the planets Rann and Thanagar came about after the latter was transported into the Vega system. It was part of the larger Infinite Crisis, and involved several heroes, notably Adam Strange and Hawkman.
History
Issues
Adam Strange: Planet Heist
Rann-Thanagar War
Hands of Fate
Related Articles
Links and References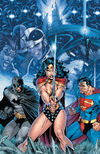 Crossover

The events from this issue or series are related to Infinite Crisis, and/or any of its surrounding events, including Villains United, the OMAC Project, Rann-Thanagar War and Day of Vengeance. This template will automatically categorize articles that include it into the Infinite Crisis crossovers category.
Expand
This section of the article does not provide a complete profile of the subject. You can help out by providing additional information, expanding on the subject matter in order to bring this article to a higher standard of quality.

This template will categorize articles that include it into Category:Incomplete Articles.