Batman Character Guide [INTERACTIVE]
Play Sound
Ricardo Diaz, also known as The Dragon, is a crime lord who had seized control over Star City. He is also a member of the elite criminal empire known as the Quadrant.[1]

History
Early Years
As a child, Diaz grew up in an orphanage. While there he had claimed to have fought for every scrap of food he could get and was tortured by an older child, named Jesse.[1]
Diaz eventually joined a group called the Scorpions and would eventually begin operating his own organization, manufacturing a steroid derived from Vertigo.[2]
Incomplete
There's something missing here. This section of the article is incomplete, and contains information, but requires more before it can be considered
complete
. You can help DC Database by editing this page, providing additional information to bring this article to a higher standard of quality.
Powers and Abilities
Powers
Abilities
Weaknesses
Notes
Trivia
Related
Footnotes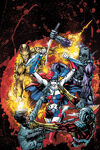 Suicide Squad member
This character is or was a member of the Suicide Squad, a team of imprisoned super-villains who perform high-risk missions for the U.S. Government in exchange for commuted sentences, in any of its various incarnations. This template will categorize articles that include it into the "Suicide Squad members" category.