This article is part of the
DC Database
Recommended Reading
project, a series of articles written by our editors. They are meant as a guide to help both new and old readers, either getting into comics for the first time or looking to read more on their favorites. These should not be taken as a definitive guide; obviously you can start wherever and with whatever you want, but they're some general suggestions that we think you might find enjoyable.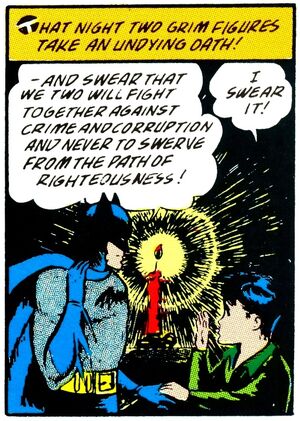 Robin is mostly known as Batman's sidekick, but there are a lot of great Robin solo comics. If you're into Robin it can be a little tricky knowing where to start. There have been five Robins in regular continuity: Dick Grayson, Jason Todd, Tim Drake, Stephanie Brown, and Damian Wayne. That's not counting random Elseworlds, alternate universes, the popular Carrie Kelley in The Dark Knight Returns, and the "We Are Robin" street movement. We're gonna assume you already know which Robins you like and just break it down by character.
Dick Grayson
Jason Todd
Batman: The Cult (1988): Most of Jason Todd's Robin years have not been reprinted in collected edition. This four-issue story by Jim Starlin and Bernie Wrightson is an absolute classic though, and it features hot-headed Jason at his very best.
Batman: A Death in the Family (1988): Nobody thought DC would really do it, but this is the story where readers voted for Robin to get killed by the Joker. It's also the conclusion to the excellent Batman run by Jim Starlin and Jim Aparo. In his last adventure Jason Todd proves that he's a hero to the very end.
Tim Drake
Stephanie Brown
Batman: War Drums (2004): Stephanie Brown's tenure as Robin really only lasted a couple of months before she got fired. It was more like a brief hiatus in the middle of Tim Drake's career. The stories involving her were really great though.
Damian Wayne
Miscellaneous
Community content is available under
CC-BY-SA
unless otherwise noted.