Batman Character Guide [INTERACTIVE]
Play Sound
"Death's Door": Bruce Wayne has delivered the fatal Leopard Blow to his final opponent just as Robin and Nightwing witness the scene. They are both appalled, whereas Lady Shiva
Robin (Volume 2) #8 is an issue of the series Robin (Volume 2) with a cover date of July, 1994.

Synopsis for "Death's Door"
Bruce Wayne has delivered the fatal Leopard Blow to his final opponent just as Robin and Nightwing witness the scene. They are both appalled, whereas Lady Shiva, who also witnessed the scene, is delighted and pleased to have tainted the name of the Dark Knight. Shiva takes the Mask of Tengu, but not all is not as it seems as the man starts recovering and Bruce explains that this was all a ruse to satisfy Shiva. After the situation is cleared, Bruce decides it's time to set things right.
Meanwhile, on his quest to find LeHah, Batman has gone on a rampage against some members of the Gotham Organized Crime, creating troubles for the corrupt businessman Penn Selkirk who has come to the conclusion that Batman has to be dealt with. As this happens, Shiva confronts the ninjas wearing the Mask of Tengu and informs them that their quest is over, beating them all.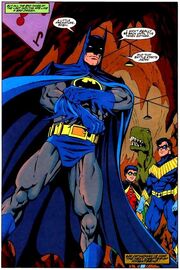 With all the circumstances and events happening in Gotham, the Gotham City Police Department find themselves at a loss and even Commissioner Gordon has begun to lose hope. When night comes, Nightwing and Robin start preparing the Batcave as Bruce decides to finally return. At that same moment in Blackgate Penitentiary, the special area for the inmates from Arkham Asylum have become unusually active and Bane finally recovers from his catatonic state in time to realize that Batman is back.
Nightwing and Robin are much satisfied to see the real Batman back in action, but the Dark Knight knows that the fight for Gotham is just about to begin.

Appearing in "Death's Door"
Featured Characters:
Supporting Characters:
Antagonists:
Other Characters:
Locations:
Items:
Vehicles:
Notes
Trivia
Nightwing is the first person to refer to Jean-Paul Valley as "Azbats" in this issue.
This issue marks the return of Bruce Wayne as Batman since Bane broke his back in Batman #497.
See Also
Recommended Reading
Links and References