The Parasite was an enemy of Superman who could drain energy and powers from people he touched.

History
Rudy Jones was a S.T.A.R. Labs janitor and quite the pushover. An old friend, Martin Lebeau, convinced him to help him rob the laboratories. After a brief fight with security guards, they managed to get away with an experimental chemical. However, during the getaway, Jones (who was in the pickup's bed with the chemicals) was exposed to them and transformed into a purple giant.
Finding himself able to absorb life force and superhuman powers at a mere touch, Jones first sought revenge on Lebeau, and later on Superman.
Parasite teamed up in Grodd's first Secret Society but was defeated and jailed with the rest, and was also a member of Grodd's second, larger Legion of Doom. During the Legion mutiny, he sided with Grodd. He was one of the final survivors of the battle, but was frozen by Killer Frost. He was killed when Darkseid blew up the ship.

Powers and Abilities
Powers
Energy Absorption: Parasite has to power to suck life force and energy from his victims. The effect wears off soon after the absorption is complete.

Power Absorption: Parasite can absorb the powers of any creature with superhuman capabilities.
Weaknesses
Vulnerability to Weaknesses: Parasite took over the weaknesses of his victims; these included Superman's vulnerability to kryptonite and water, which shorted out Livewire's electrical powers.
Power Limitation: Parasite's power absorption has a time sensitive limit from absorbing powers of any heroes which he requires to recharge to keep the powers by choice.
Notes
Recommended Reading
Related
Character Gallery: Rudolph Jones (DCAU)
External Links
Footnotes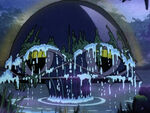 Legion of Doom member
This character is or was a member of the Legion of Doom, a team of supervillains called together for the purpose of conquering the world and defeating the Super Friends, in any of its various incarnations. This template will categorize articles that include it into the "Legion of Doom members" category.
Justice League Villain

This character is or was primarily an enemy of the Justice League, in any of its various incarnations. This template will categorize articles that include it into the category "Justice League Villains."