Batman Character Guide [INTERACTIVE]
Play Sound
Looking for a different version of this character?
As a result of the New 52 in 2011, the entire line of DC characters was relaunched, incorporating properties belonging to the company's imprints: Wildstorm, Milestone, and Vertigo. As such, elements of this character's history have been altered in some way from the previous incarnation. For a complete list of all versions of this character, see our disambiguation page.
El Gaucho is an Argentinan millionnaire playboy, a former agent of Spyral and the Batman of Argentina in the Batmen of All Nations and Batman Incorporated.

History
Once an Argentinian secret agent working for Spyral, Don Santiago retired to his millionaire lifestyle but quickly became bored and depressed by a life without adventure. However upon hearing about Batman's activities in Gotham, Santiago was inspired to become a hero and took up the title of El Gaucho. He has since became a good friend and ally of Batman, though their shared history with one Kathy Kane has caused tension between the two heroes. He ceased his involvement with Spyral when Kane died while working for them.
He was later seen fighting alongside Batman Incorporated.
Expand
This section of the article does not provide a complete profile of the subject. You can help out by providing additional information, expanding on the subject matter in order to bring this article to a higher standard of quality.

This template will categorize articles that include it into Category:Incomplete Articles.
Powers and Abilities
Abilities
Notes
Related
Character Gallery: Santiago Vargas (Prime Earth)
Footnotes

Batman Family member

This character is or was an incarnation of or an ally of Batman, and a member of the Batman Family. This template will automatically categorize articles that include it into the "Batman Family members" category.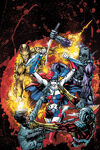 Suicide Squad member
This character is or was a member of the Suicide Squad, a team of imprisoned super-villains who perform high-risk missions for the U.S. Government in exchange for commuted sentences, in any of its various incarnations. This template will categorize articles that include it into the "Suicide Squad members" category.