History
Selina Kyle was a jewel thief who became the feline femme fatale known as Catwoman, constantly seducing Batman. In Lego Batman: The Videogame she busted out of Arkham Asylum with a bunch of other criminals and joined the Penguin's group as they plan to hold up Gotham with remote-controlled penguin robots.

Powers and Abilities
Abilities
Paraphernalia
Transportation
Weapons
Notes
Related
Links
Footnotes

Batman Family member

This character is or was an incarnation of or an ally of Batman, and a member of the Batman Family. This template will automatically categorize articles that include it into the "Batman Family members" category.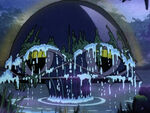 Legion of Doom member
This character is or was a member of the Legion of Doom, a team of supervillains culled together for the purpose of conquering the world and defeating the Super Friends, in any of its various incarnations. This template will categorize articles that include it into the "Legion of Doom members" category.