This page contains information about Seven Soldiers of Victory (Volume 1) . Seven Soldiers of Victory was written by Grant Morrison and illustrated by J.H. Williams III, and has been described by Morrison as not just a maxiseries but a "megaser
Seven Soldiers of Victory Vol 1 (2005-2006)

Seven Soldiers of Victory was written by Grant Morrison and illustrated by J.H. Williams III, and has been described by Morrison as not just a maxiseries but a "megaseries." It consists of two book-end titles, and seven four-issue limited sub-series, each revolving around one member of the team. The entire story consists of 30 issues, and each miniseries can either be read individually, or as part of the larger whole. This third incarnation of the Seven Soldiers of Victory includes no members from the original team, but an entirely new cast including: The Bulleteer, Frankenstein, Klarion, The Manhattan Guardian, Mister Miracle (Shilo Norman), Shining Knight and Zatanna.
Issues
Book-Ends
Reading Order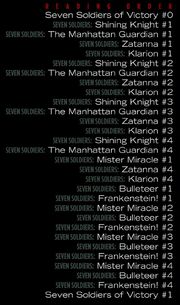 See Also
---
Community content is available under
CC-BY-SA
unless otherwise noted.