Wiki Targeted (Entertainment)
Play Sound
Sinestro was a powerful Green Lantern before his eagerness for power corrupted him.

History
He was arrested by a team of Lanterns lead by John Stewart. Now an outcast, he hunted and killed as least nine Lanterns in retaliation, taking their rings. However, he was eager to get his hands on a power battery. After following the vessel of Abin Sur to Earth, Sinestro found himself pitted against Abin's successor, Kyle Rayner, but was defeated when Superman helped the new Lantern.
Sinestro went into hiding on Earth, occasionally teaming up with other villains to get his revenge on John Stewart. He was part of Grodd's first Secret Society, and later of his Legion of Doom. His most successful attempt was a solo-effort, though. Deceiving the Lantern by masquerading as a deep space crash victim, Sinestro stole John's power battery and impersonated him in a raid on Dakota. The real Green Lantern defeated him with the help of Static and Gear.
In the Legion of Doom, Sinestro was one of Lex Luthor's most powerful allies. He aided him - with Tala and Doctor Polaris - in the raid of a money train in Kaznia, and protected him during the Grodd's mutiny of the Legion. Sinestro's power ring, reinforced by Star Sapphire's sapphire gem, protected the surviving members of the vacuum of space when Darkseid blew the ship up near Apokolips.
During Darkseid's subsequent attack on Earth, Sinestro fought in Tokyo, providing back support for Steel and Blue Devil.

Powers and Abilities
Abilities
Paraphernalia
Equipment
Weapons
Notes
Related
External Links
Footnotes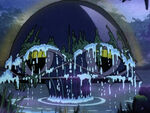 Legion of Doom member
This character is or was a member of the Legion of Doom, a team of supervillains culled together for the purpose of conquering the world and defeating the Super Friends, in any of its various incarnations. This template will categorize articles that include it into the "Legion of Doom members" category.
Justice League Villain

This character is or was primarily an enemy of the Justice League, in any of its various incarnations. This template will categorize articles that include it into the category "Justice League Villains."