Wiki Targeted (Entertainment)
Play Sound
Slade Wilson is Deathstroke, one of the best assassins on the planet and a longtime enemy of the Titans.

History
Year Five
 Main article: Injustice: Gods Among Us: Year Five Vol 1
After the destruction of Metropolis by the Joker and the institution of Superman regime, Deathstroke faded into obscurity without any clients to hire him or targets to kill. Forced into a vacation as he called it, Deathstroke was eventually contacted by Batman during the fifth year of the regime and invited to aid the Insurgency. Deathstroke agreed, eager to take down the regime that put him out of business.
The mission was for Deathstroke to sneak into the highly guarded S.T.A.R. Labs facility and retrieve a stored Mother Box in order to further the Insurgency's plan to call for help throughout the multiverse. However, the mission was practically suicide, and Deathstroke, after being discovered and having to fight Metamorpho was captured by the Regime. Despite not getting out with the Mother Box, Deathstroke sent a perfect 3D blueprint of it to Batman before he was captured, having known his escape was going to fail the whole time.[1]
The Fall of Superman's Regime
 Main article: Injustice: Gods Among Us (Video Game)
Still detained by Cyborg and Raven for his break in at S.T.A.R. Labs, Deathstroke was tortured for information by the former Titans but he refused to break. After some time, Deathstroke was saved by Green Lantern of another world - the Insurgency's plan to recruit heroes from another world having worked. After this incident, he formally joins the Insurgency thanks to his personal vendetta against his torturers.
Working with Lex Luthor and the alternate-reality's Cyborg, the duo infiltrate Justice League Watchtower to prepare to use its teleporter on the heroes fighting at Stryker's Island. Rather than purely follow orders, Deathstroke moves on to defeat both Flash and Shazam in order to overload the Watchtower's core and set it to self-destruct, leaving Batman's party with only a few hours to complete their mission. He is then tasked by Luthor to acquire technology that could re-weaponize Batman's Kryptonite. Forced to do battle with multiple members of the regime, Deathstroke was successful with both, his contributions aiding to the final defeat of Superman and the fall of the regime.
Possible Post-Regime Epilogue
With Superman's Regime toppled, new governments formed to take its place. New governments meant new customers for Deathstroke, and business was booming. Soon, there were more assassinations to carry out, revolutions to aid, and unrest to create than he could manage on his own.
The One Earth Regime's Elite Troopers having committed atrocities in Superman's name, had gone into hiding from a populous bent on revenge. Impossible for most to find, but not for Deathstroke. Recruiting these renegades, he formed the New Titans, the world's premiere political assassins.

Powers and Abilities
Powers
Abilities
Weaknesses
Notes
Related
Footnotes
Insurgency member

This character is or was a member of the Insurgency, a gathering of heroes and villains who have come together to usurp Superman's Regime and restore democratic order on Earth in the events that precede and include the Injustice: Gods Among Us video game.
This template will categorize articles that include it into the "Insurgency Members" category.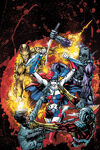 Suicide Squad member
This character is or was a member of the Suicide Squad, a team of imprisoned super-villains who perform high-risk missions for the U.S. Government in exchange for commuted sentences, in any of its various incarnations. This template will categorize articles that include it into the "Suicide Squad members" category.
Justice League Villain

This character is or was primarily an enemy of the Justice League, in any of its various incarnations. This template will categorize articles that include it into the category "Justice League Villains."