Batman Character Guide [INTERACTIVE]
Play Sound
Steve Dayton, alias Mento, is a member of the Doom Patrol. He was married to teammate Elasti-Girl and they adopted Beast Boy. Extended use of his helmet eventually harmed his mental stability.

History
Origin
Steve Dayton, one of the world's richest men, built a helmet to enhance his mental abilities and calls himself Mento. This was an attempt on Dayton's part to impress Elasti-Girl of the Doom Patrol. Although his arrogant manner annoys the male field members of the team, he is successful, Mento and Elasti-Girl are married. They soon adopt Beast Boy.
Teen Titans
After Elasti-Girl's death, Mento goes mad and creates the Hybrid and blames Beast Boy for the deaths of the original Doom Patrol. The Hybrid is defeated and Raven cures him of his brain problem.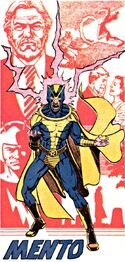 Steve Dayton later helps in the battle against the Wildebeest Society. Later on, he becomes Crimelord and tries to frame Deathstroke the Terminator (a.k.a. Slade Wilson) for murder, but it is later revealed that Crimelord did it and Deathstroke is cleared of all charges. Crimelord's plans also involved nuclear bombs placed across the country, but this is neutralized by a large gathering of superheroes, mainly current and former Teen Titans members.
One Year Later
Steve Dayton is revealed to have returned with the rest of the Doom Patrol. Though a member of the Patrol, he furiously writes novels, supposedly spurred on by a creative streak created by the helmet. He also seems to have developed an addiction again to his helmet, as he claims that Rita is only in love with Mento and not Steve Dayton. He claims to remember his days as The Crimelord, calling them "a glitch in the helmet".
Retaining his age though clean shaven again, Dayton's Mento helmet is now red, and wears a black costume with a yellow lightning bolt across it; this coloration of helmet and costume resembles his original look from the original incarnation of the Patrol.
Seeing the truth about Dr. Niles Caulder (a.k.a The Chief), who is trying to convince Kid Devil to join the Doom Patrol by telling him his own teammates, the Teen Titans, will always despise him as a freak, Dayton shakes off his addiction and finally removes the helmet. Thinking clearly again for the first time in years, he takes the control of the Doom Patrol from the Chief, claiming respect for the other members of the squad, and threatening the Chief if he ever reclaimed his leading role from him.
Mento later leaves the Patrol, despite still being in contact with Caulder. Currently estranged from his wife, as his marriage fails when Rita finds out how Dayton routinely uses his mind-reading powers on her, he's called back by Caulder to stop an alien hive mind by using Rita's enlarged form as a proxy. Upon becoming aware of the newest violation, Rita decides to break every remaining tie with him, blaming Caulder too for her mistreatment.

Powers and Abilities
Abilities
Other Characteristics
Paraphernalia
Equipment
Mento Helmet: Steve Dayton wears a helmet of his own invention that amplifies his own latent psychic powers. While wearing the helmet, he has the powers of:
Notes
Doom Patrol (Volume 5) #3 States that Steven Dayton's height is 6'2" and his weight is 164 lbs.
Although this character was originally introduced during DC's Earth-One era of publication, their existence following the events of the 1985–86 limited series Crisis on Infinite Earths remains intact. However, some elements of the character's Pre-Crisis history may have been altered or removed for Post-Crisis New Earth continuity, and should be considered apocryphal.
Related
Footnotes


Doom Patrol member
This character was at some point primarily a member of the Doom Patrol. A long-running team of rag-tag misfit heroes who work together for the common good, fighting evil against all odds. This template will categorize any article that includes it into the Doom Patrol members category.