"The Team of Luthor and Brainiac!": Lex Luthor escapes from jail, learns Brainiac's secret origin--that he is a humanoid computer, created by the now-destroyed computer tyrants of Yod--and frees Brainiac from the planet on which Superman had imprisoned him. Together they shrink and defeat Super
This time I'm going to get rid of my nemesis once and for all... I'm going to destroy Superman.

-- Lex Luthor
Appearing in "The Team of Luthor and Brainiac!"
Featured Characters:
Supporting Characters:
Antagonists:
Other Characters:
Locations:
Items:
Vehicles:
Synopsis for "The Team of Luthor and Brainiac!"
Lex Luthor escapes from jail, learns Brainiac's secret origin--that he is a humanoid computer, created by the now-destroyed computer tyrants of Yod--and frees Brainiac from the planet on which Superman had imprisoned him. Together they shrink and defeat Superman, but the Supermen Emergency Squad capture both of them, shrink them, and put them on trial in Kandor. But Superman is in a coma, and Brainiac buys both himself and Luthor their freedom by bringing him out of it. Superman enlarges himself, Luthor, and Brainiac, and sets the latter two free according to the agreement. Brainiac removes Luthor's knowledge of his computer nature and takes him back to Lexor, where Luthor is embraced by Tharla, a woman who has come to love him.
Notes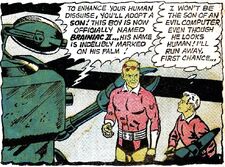 Brainiac II is introduced in this issue, although he barely appears for a panel. He won't be seen again for many years until Invasion! #1 where the character is revamped by Keith Giffen and Todd McFarlane as an adult, a ruthless intellectual who will go on to form the intergalactic police force L.E.G.I.O.N.. He will grow up to be a hero, unlike his predecessor.
Trivia
See Also
Recommended Reading
Links and References