Batman Character Guide [INTERACTIVE]
Play Sound
"The Team of Luthor and Brainiac!": Lex Luthor escapes from jail, and immediately attempts revenge on Superman with a Kryptonite missile, which fails, and Luthor realizes that he has to be smarter. To outsmart Superman, Luthor uses his Time-Sp
This time I'm going to get rid of my nemesis once and for all... I'm going to destroy Superman.
Superman #167 is an issue of the series Superman (Volume 1) with a cover date of February, 1964.

Synopsis for "The Team of Luthor and Brainiac!"
Lex Luthor escapes from jail, and immediately attempts revenge on Superman with a Kryptonite missile, which fails, and Luthor realizes that he has to be smarter. To outsmart Superman, Luthor uses his Time-Space-Thought-Scanner to learn Brainiac's location and secret origin -- that he is actually a humanoid computer, created by the now-destroyed Computer Tyrants. Armed with this knowledge, Luthor flies to prison planet Kronis, frees Brainiac, and together they shrink, defeat and imprison Superman.
Brainiac uses his coma-ray on Superman, but is stopped from going further by the Superman Emergency Squad who capture the two villains. They shrink Luthor and Brainiac, and put them on trial in Kandor. The trial is prosecuted by Jor-El's old friend Nor-Kann, and Brainiac is defended by Luthor. The verdict: guilty; and the sentence is the Phantom Zone, except that Superman remains in a coma. Brainiac bargains for their freedom in exchange for the cure. Revived, Superman uses Zak-Kul's enlarging ray to restore himself, Luthor, and Brainiac to full size, and sets the latter two free according to their agreement.
Through trickery, Brainiac removes Luthor's knowledge of his technological origin and takes him back to Lexor, where Luthor is embraced by Tharla, a woman who has come to love him.

Appearing in "The Team of Luthor and Brainiac!"
Featured Characters:
Supporting Characters:
Antagonists:
Brainiac (Origin) (Flashback and main story)
Computer Tyrants (First appearance) (Flashback and main story) (Destroyed)

Master Computer One (Flashback only)
Other Characters:
Coluans (First appearance; unnamed)
Tharla/Ardora (First appearance)
Lex Luthor's Hall of Heroes
Living Ships
Tri-Beasts
Locations:
Items:
Anti-Superman Missile (Destroyed)
Birdcage
Coma-Ray Ring
Illium 349 (Unnamed)
Statue of Lex Luthor
Zak-Kul's Enlarging Ray (Unnamed)
Vehicles:
News Van
Brainiac's Flying Saucer

Notes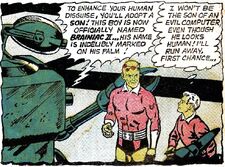 Brainiac II is introduced in this issue, although he barely appears for a panel. He won't be seen again for many years until Invasion! #1 where the character is revamped by Keith Giffen and Todd McFarlane as an adult, a ruthless intellectual who will go on to form the intergalactic police force L.E.G.I.O.N.. He will grow up to be a hero, unlike his predecessor.
In this issue, Ardora introduces herself to Luthor as "Tharla", but when it is reprinted in Superman #245 she identifies herself by her proper name "Ardora".
Trivia
The story featuring John F. Kennedy from Superman #170 was originally scheduled for this issue but it was pulled at the last minute due to his assassination. DC approached the White House and were encouraged to publish the Kennedy story. Some copies of issue #167 with the original story were published.
See Also
Recommended Reading
Links and References