Batman Character Guide [INTERACTIVE]
Play Sound
"The Observer Effect: Part One": In Oregon, Briar gets ready to perform dark magic in order to find the Barren and muses about the journey she has been through with the Swamp Thing. She then asks him what he learned from the key that Death didn't tell them, he responds that it came from the east Swamp Thing Giant #5 is an issue of the series Swamp Thing Giant (Volume 1) with a cover date of August, 2019. It was published on June 16, 2019.

Synopsis for "The Observer Effect: Part One"
In Oregon, Briar gets ready to perform dark magic in order to find the Barren and muses about the journey she has been through with the Swamp Thing. She then asks him what he learned from the key that Death didn't tell them, he responds that it came from the eastern central part of the country. Looking further, he detects oil residue in a fingerprint and learns that it's from the mass cane corn plant. Making contact, he learns its location and travels to it through the Green with Briar. She asks him who he thinks the Barren is, but he responds that he'll wait till learning more.
Meanwhile Dr. Kamal Singh tells Dr. Lola Helmsdale that she's been taking better care of her plant in his absence, which puzzles her since she saw that it was dead yesterday. She gets back to the topic at hand and hands him replacement for the key he lost, warning him that it's government property which he shouldn't lose again and will suffer the consequences if he messes up again. Swamp Thing comes out as they leave, having hidden in her plant while they were talking. Swamp Thing learns that they're in Oakheart National Laboratory of West Virginia and Briar decides to disguise herself as a lab assistant to go after Dr. Singh.
Swamp Thing plants a seed in Briar Woodrue's ear so that they can keep in contact and goes after Dr. Helmsdale himself. Meanwhile, someone calls out the name of Helmsdale repeatedly calls out her name and asks if she checked all her clothes and boxes, leading her to use a mace. She however finds that what she maced is a jumble of clothes which tells her that she can't always check where the monsters are hiding. Swamp Thing attacks it and demands to know if it's the Barren, but it only states that it's a mere memory before disintegrating.
Helmsdale gets attacked by a robot while getting in her car, but it soon fades away and Swamp Thing tells her to let him help her. She however refuses and gets grabbed by a monster he notices is similar to the one in the movie "Intruders" he saw as a child, before it disintegrates along with Lola. As he tells Briar about her disappearance, he learns that Dr. Singh has disappeared as well and informs that all the monsters he faced seem like they were made by someone of childish imagination. Briar guesses that Singh must have had some kind of hidden exit and spots a magical portal with her witch-eye. She stumbles into a dimension with door to other places, before Dr. Singh confronts her and reveals himself to be the Barren.

Appearing in "The Observer Effect: Part One"
Featured Characters:
Supporting Characters:
Briar Woodrue

Lola Helmsdale (Dies)
Antagonists:
The Barren

(First appearance)
Other Characters:
Locations:
Synopsis for "The Hunt, Conclusion: Food Chain"
This story is reprinted from Animal Man (Volume 2) #5.
In the woods beyond her mother's farm, Ellen Baker struggles to prevent the third hunter of The Rot from devouring her son Cliff by blasting it with a shotgun. Unfortunately, the creature simply regenerates its limbs and closes its wounds, approaching her.
Meanwhile, Buddy Baker, his daughter Maxine, and their feline guide from The Red - Socks the cat - fly over the California coast, toward Mary Frazier's farm. That is the place that he and Ellen had agreed on meeting if anything ever went wrong. Socks, however, is wary of this choice. It ought to be Buddy's priority to protect Maxine, and as such, he should keep her as far from the third hunter as possible. The cat reminds that Buddy and his family are expendable, only Maxine is not. Buddy comments that if Maxine feels like dropping the cat at any time, he would not have a problem with it.
When they arrive on the farm, Mary warns of the danger that Buddy's wife and son are in, and leaving Maxine with her grandmother - against Socks' protests - he rushes off to their rescue. Meanwhile, the hunter is beginning to probe Ellen's facial orifices with it's tentacle like tongue, to her immense disgust. Fortunately, Cliff grabs a hold of the shotgun, and blasts its head away, freeing her. When the monster turns on the boy, Buddy appears, and slams its head into the ground. Realizing that the hunter is very strong, Buddy commands his wife and son to run back to the farm, leaving the monster to him.
The creature is more powerful than Buddy, though, and it grabs him up, forcing itself on him. It fills his skin with rot, giving him a vision of what the world will be like when his daughter becomes a totem for The Rot. In the vision, a spider-like Maxine traps him in a web, and begins peeling off his face with her monstrous teeth. The hunter releases him from the vision, and taunts him. Sadly, Buddy begs for them to leave his young daughter alone, promising to do anything. The creature is amused, but Maxine is so much more than human.
Back on the farm, Maxine is desperate to help her father. Ellen warns that it is not safe for her to go face the hunter, and demands that they stay where they are. Instead, Maxine gets down on the ground, and begins spreading an impulse among the lifeforms beneath the dirt.
Meanwhile, Buddy realizes that he is unable to access the lifeweb to use his powers just as the hunter decides it is done toying with him. Suddenly, though, all of the animals of the forest burst forth from the trees and attack the hunter, biting and clawing at it. Though Buddy is safe enough, the hunter mocks him, revealing that by allowing itself to be eaten by these creatures, the Rot spreads into them, and through them, it will spread across the world.
Terrified, Buddy runs back to the farm with the rotting animals hot on his heels. Maxine and Socks realize that she made a mistake; she was tricked by the Rot, and now it has found its way into the Red. Buddy appears from the woods and grabbing his family in his arms, he shoves them into Mary's RV, and they try to outrace the animals with the knowledge that this infection will spread until it covers the whole world.
Buddy tries to assure Maxine that it wasn't her fault, but Socks explains that they have past the point of no return. Only the Swamp Thing can save them now.

Appearing in "The Hunt, Conclusion: Food Chain"
Featured Characters:
Supporting Characters:
Antagonists:
Other Characters:
Locations:
Concepts:
Items:
Vehicles:
Synopsis for "Dead Meat"
This story is reprinted from Swamp Thing (Volume 5) #5.
In Mato Grosso, Brazil, a Professor Robert and his guide Gabriel make their way deep into the rainforest where they encounter the Terena people. The Terena are vehement protectors of their land, and the Professor, smiling announces that he knows how to deal with them. Opening his shirt, he releases a cloud of flies, and The Rot overtakes them all.
In a general store just outside of Iberia, Texas, Alec Holland and Abigail Arcane prepare to enter the Deadlands in order to face Abigail's half brother William and his army of creatures of The Rot. However, the further they go, the weaker Alec's connection to The Green becomes, which means they will be in a much weaker position than William when they face him. As Alec feels his connection dwindling, Abigail feels her own connection to The Rot growing louder and stronger.
Using his memories from the Swamp Thing, Alec picks Abigail up some canned peaches, knowing they're her favourite. Though Abigail is somewhat turned off by his using the memories of someone she considers separate from him - someone she once loved - she accepts the gift gratefully.
As they leave the store they are suddenly surrounded by a swarm of pigs and cattle infected by The Rot. William commands the creatures, and Alec is shoved back into the store, leaving Abigail outside. William is angry with her for having put him in the hospital as a child. She pleads with him, arguing that it was only to protect him from the pull of The Rot.
While Abigail struggles to fend off the creatures with her shotgun, Alec tries to reach into The Green so that he can help her. With a pack of pigs charging him down, and Abigail disarmed and at William's mercy, Alec manages to make a small connection which grows and grows until finally thick vines shoot up from the ground and rip off the pigs' heads. Stepping outside, Alec destroys all of William's creatures and helps Abigail to her feet. Finally, he captures William and traps him high in the branches of a tree.
Abigail is wounded, and Alec insists on helping her. To shut up her complaints, he offers her a peach and tells her a story while he wraps her wounded arm with a bandage. As a teenager, he and some friends went hiking in the Western Appalachian Mountains. Despite the danger, his friends had convinced him to climb some vines up to a rockface and spraypaint a message across it. As he climbed, he felt safe, because something inside of him knew that there was a force trying to protect him within the plants. Alec considers that he had poured himself into the development of the Bio-Restorative Formula hoping that in doing so, maybe the Green would leave him alone.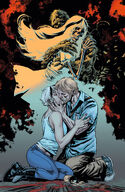 Alec and Abigail admit that they both had dreams, sometimes nightmares, about their respective elemental forces. Alec had had dreams of a girl made of bones, and Abigail had dreamt of a boy made of leaves. There had always been warnings from the elements to avoid those people in both dreams, but now, realizing that they had been dreaming about each other, their own voices seem stronger than those of the Green or the Rot. Pushing aside the natural opposition their internal forces have for each other, Alec and Abigail share their first kiss, and the spirits within them embrace.
Unfortunately, something changes within Alec. The Rot has somehow grown stronger, and William knows it too. From the tree he is trapped in, he mocks them, warning that the Parliament of Trees is going to burn, and the Rot has won.
Meanwhile, Professor Robert and infected Terena people approach the Parliament with lit torches.

Appearing in "Dead Meat"
Featured Characters:
Supporting Characters:
Villains:
Other Characters:
Locations:
Texas
Appalachian Mountains (Flashback only)
Concepts:
Items:
Vehicles:
Synopsis for "One Year Later"
This story is reprinted from Shadowpact #5.
The Shadowpact returns to the outside world after having defeated the efforts of the Pentacle and the Sun King. Although they only spent a short amount of time inside the Blood Barrier surrounding Riverrock, they discover that an entire year has passed for everyone else. As such, the outside world believed that the Shadowpact had died. A large monument has been erected for them honoring their efforts during the Day of Vengeance event.
Nightshade, having encased most of the Pentacle inside of an umbral cube, brings them to the Dark Tower - a mystical edifice that dampens mystic energy. Joshua Coldrake agrees to keep the Pentacle contained.
Later in Gotham City, Strega enters the Breed Building and takes the elevator all the way down to the lower levels. There, she awakens a warlock who has been slumbering beneath the city for millennia. Believing that his essence has been a guiding influence in the development of Gotham City, the Warlock takes to calling himself Doctor Gotham.
Elsewhere in Gotham, Nightmaster and Detective Chimp enter the Oblivion Bar, only to find that it has come under new management in their absence. The bar is now run by a flipper-limbed telekinetic named Eddie Deacon.
Ragman attempts to get back to his old life, only to find that a psychotic mercenary named Blue Moon wants to kill him. Ragman channels strength from the souls trapped inside his rags, and manages to judo-flip Blue Moon into an alleyway wall.

Appearing in "One Year Later"
Featured Characters:
Supporting Characters:
Antagonists:
Other Characters:
Locations:
Items:
Vehicles:
Notes
See Also
Recommended Reading
Links and References