"The Observer Effect: Conclusion": As Swamp Thing fights the Barren, he notices that the bayou is transforming, with the water becoming blood, trees transforming into arteries, veins growing on ground. The plants in Alec Holland's destroyed laboratory transform into skeletons of children. This i Swamp Thing Giant #7 is an issue of the series Swamp Thing Giant (Volume 1) with a cover date of October, 2019. It was published on August 18, 2019.

Synopsis for "The Observer Effect: Conclusion"
As Swamp Thing fights the Barren, he notices that the bayou is transforming, with the water becoming blood, trees transforming into arteries, veins growing on ground. The plants in Alec Holland's destroyed laboratory transform into skeletons of children. This is happening due to the the Barren trying to merge portals to all elemental realms, now that he has the key to the last door, ie. Swamp Thing who's the only the one that can access the Green.
The dead Briar Woodrue suddenly wakes up and views her father Jason Woodrue in front of herself. Jason states that when she tried to open a portal to find him in the bayou, it was him imprisoned in Hell she glimpsed and started going mad due to what she saw. He reveals that he is an enemy of Swamp Thing and tried to gain the power of the Green. When he failed however, he impregnated Briar's mother in order to win, but was sent to Hell by Swamp Thing before he could tell her why he had decided to bring her into the world. Briar however exceeded his expectations and can access to elemental powers other than the Green by herself and Jason states he can help her in what she wants.
As the Barren succeeds in merging the portals, Swamp Thing finds that he can't feel the Green anymore, leading the the Barren states that's because he's disconnected him from it. He shows him he has brought them to the source of creation - Heaven itself, which he starts destroying to bring an end to all creation and states now everything will be nothing like he once was considered to be. Briar however arrives at their location and has the Bi'tal attack the Barren and imparts Swamp Thing with power of all the elemental realms, who ask him to become their avatar.
The Barren mocks Briar for sending the Bi'tal whom he easily crushes, but finds himself confronted by Swamp Thing who has been chosen to become the avatar of everything. Using the fire and water elements together, he traps him into a viscous magma-like liquid before using the power of the Bleed to transform him into a living soul, which allows Death to kill him. The mouth of Death however starts eating everything and Briar closes all the portals to the elemental realms in order to stop it. Swamp Thing fins himself back in his swamp and learns that Jason had brought him back to life by making a deal with Hell to give her powers to stop the Barren, in exchange for letting him use her for his intended purpose.
After the Barren's defeat, creation is restored back to normal and the campers made to defend the Bleed are allowed to return home. George meanwhile happily lives with his mother in Heaven, as the balance of both life and death is restored. Swamp Thing has been given back his rightful place as the avatar of the Green and states how peering into darkness can permanently transform a person. As Briar rows away from the bayou, she looks back to get a final glimpse of Swamp Thing but he's gone, stating to himself that monsters exist on Earth too.

Appearing in "The Observer Effect: Conclusion"
Featured Characters:
Supporting Characters:
Antagonists:
Other Characters:
Alec Holland (Mentioned only)
Astraea/Miss Ravenmocker
Black Bi'tal
George
Kimberly
Ryan
Locations:
Synopsis for "Animal vs. Man, Part Two"
This story is reprinted from Animal Man (Volume 2) #8.
With a pack of wolves taken over by The Rot gathering around the Baker family's mobile home, Maxine Baker believes that she can stop them. Naturally, her mother Ellen is against the idea, already fatigued by the weirdness brought about by her husband Buddy's forays into superheroism. Buddy, on the other hand, considers letting the girl face the creatures, despite warnings from Socks that protecting Maxine from harm is what he was given super-human abilities for.
Regardless, Maxine rushes outside to face the wolves, and though they hesitate for a moment, they soon pounce on her and rip her apart. With horror and righteous rage, Buddy leaps into the frey and brutally tears the creatures limb from limb. When his rage subsides, he sees that he was too late to save Maxine, as her limp corpse lies before him.
However, just beyond the treeline, Ellen sees her daughter emerge unscathed. As Ellen wraps her in a blanket, Maxine exclaims that she merely left her body and found a new one. When the wolves had leapt at her, she had jumped back into The Red, and waited until a nearby fox gave up its body for her to form into her own. To her grandmother Mary's horror, the girl approaches the body that was once hers, and sends it back to The Red by decomposing it rapidly. The evolution of Maxine's powers come as a pleasant shock to Socks.
Suddenly, Cliff shouts out that something bad is happening in town. Apparently, these rot infected creatures have attacked the nearby town. Sternly, Buddy decides that he should be the one to stop them - alone. Since he took Maxine into The Red, things have gone out of control, and he feels responsible. He asks cliff to look after Maxine and Ellen, and then flies off.
Buddy crosses the military barrier in town, and orders the soldiers to stand back while he faces the Rot-infected animals. The animals are merely thralls of Sethe, the monstrous creature that Buddy witnessed in a prophetic dream. The creatures mock him, claiming that his distraction in town allows The Rot to seek out Maxine uninhibited.
Buddy puts up a good fight against the creatures, but ultimately, he is overcome and overtaken by The Rot.

Appearing in "Animal vs. Man, Part Two"
Featured Characters:
Supporting Characters:
Antagonists:
Other Characters:
Locations:
Concepts:
Items:
Vehicles:
Synopsis for "Swamp Thing"
This story is reprinted from Swamp Thing (Volume 5) #7.
After taking a chainsaw through the chest, Alec Holland is dying - again. Just like the last time, he feels excruciating pain, but unlike the first time, it continues unobstructed by the death that will not come. He falls into The Green, and finds himself surrounded by the Parliament of Trees. But they have not saved him in order to save the world, they have saved him only to prolong his pain. As they die, so will he.
He waited too long, and now the Parliament is dying, too weak to transform him into the Swamp Thing, and too late to prevent the inevitable razing of The Green by The Rot at the hands of Abigail Arcane and Sethe. The trees express their feeling of betrayal, how he had fallen for Abby and refused to kill her. Now she will be the instrument of The Green's destruction.
Alec believes that Abby has the willpower to resist the Rot's influence on her, even as her cocoon is dragged to the Deadlands to Sethe's throne. The trees explain that as soon as she emerges from the cocoon, she will no longer be Abigail Arcane, and she will fell them all. None can refuse the call, the trees claim. Alec turns on them, responding that he had refused their call, not because he was frightened, but because he could see that they have become too greedy; too lacking in restraint. Now he sees how he was needed to give them that restraint. Now, the Parliament is conscienceless. It is no matter to the trees, though, as their end is coming swiftly - unless of course, they change Alec into the Swamp Thing.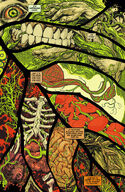 The trees are incredulous, having already explained that their weakness prevents them. However, Alec reminds them that all is not lost, because he had saved a bag filled with the last remaining batch of the Bio-Restorative Formula. With it, the trees could gain the brief boost of strength they need to make the transformation. They warn that without their power to help him, Alec will surely be killed by Sethe's forces. Even so, he demands that they use the vials. They further warn that once the change is made, he will never be able to return to his human form. Again, he commands them to do it. However, his sacrifice is not for them or for The Green. It is for Abby.
The trees drain out the canisters of Bio-Restorative Formula over Alec's body, and he feels himself dying as his organs transform from human flesh to plants and vines. He hears a thousand voices screaming for him to change; to become the monster he should have been.
Sethe's minions run in terror at the sight of the Swamp Thing reborn, and he pierces through their useless brains with barbed vines. The monster had been waiting to take him for all this time, and he had refused it for so long. This time, though, the change was his choice. Now, he will bring down war upon The Rot.

Appearing in "Swamp Thing"
Featured Characters:
Supporting Characters:
Villains:
Other Characters:
Locations:
Concepts:
Items:
Vehicles:
Synopsis for "The Laws of Battle"
This story is reprinted from Shadowpact #7.
Ragman and Enchantress have been transformed into hellhounds, and Blue Devil and Nightshade have brought them back to the Oblivion Barto find out what happened. Detective Chimp identifies them as his teammates, but Enchantress, the only one who could undo the enchantment, cannot while enchanted. Ragman asks if they can remove his collar at least, which turns out to be the key to enchantment, turning him back into a human, albeit naked and embarrassed. Nightshade takes Enchantress away to remove her collar, and Nightmaster calls the Gotham City Police. He tells them to remove the collars from the captured hellhounds - and the dead as well, in case only the transformed bodies were killed. This irritates Eddie Deacon, as he hadn't worked out how to use the phone. Rex the Wonder Dog asks Nightmaster for one of the hellhound collars.
The next evening in Gotham City, Rex puts on the collar. Blue Devil, Ragman and Nighshade see him off on his mission to infiltrate the pack, then go to Metropolis. While Blue Devil talks to his landlady, Ragman and Nightshade are attacked by the Congregation.
In the Oblivion, Nightmaster says that Shadowpact were too slow in Riverrock, and they need plan for action, tactics, everything. he sends D.C. to get what he needs from Deacon.
In Germany, Enchantress persuades Nightwitch to lend her the Herne-Ramsgate Cauldron as payment for some debt.
Back in Metropolis, Blue Devil joins the fight, relieving Nightshade long enough for her to contain the Congregation in a ball of darkness. The Congregation respond by blasting through it with a bright light (over thirty thousand lumens per square inch), knocking them down and blinding them.
In the Oblivion, Enchantress arrives, and gets the cauldron stuck in the door, much to Deacon's chagrin. She threatens to turn Deacon into a toad, and tells him to go away, unless he'll tell her where Nightmaster is. Nightmaster and D.C. come in, and tell her that they've compiled, with a nod to Isaac Asimov, the Three Universal Laws of Superheroics.

Appearing in "The Laws of Battle"
Featured Characters:
Supporting Characters:
Antagonists:
Other Characters:
Locations:
Items:
Vehicles:
Notes
See Also
Recommended Reading
Links and References
Community content is available under
CC-BY-SA
unless otherwise noted.