In a possible future, Terra was a member of the Titan East.

History
In a dystopian possible future, the United States of America was split between the east and west. The former Teen Titans formed the Titans, but had adopted a more violent, fascist approach towards crime prevention. Terra joined a renegade group of Titans called Titan East, based in New York City.[1]

Powers and Abilities
Abilities
Related
Footnotes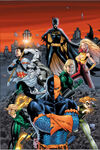 Titans East member

This character is or was a member of the Titans East in any of its various incarnations. This template will categorize articles that include it into the "Titans East members" category.
Community content is available under
CC-BY-SA
unless otherwise noted.