Twister was a member of the Church of Blood.

History
Origin
Theresa Zimmer believed that Brother Blood was in love with her. She was experimented on, which gave her illusion casting powers, but distorted her face-and her mind. She took the name Twister, and traveled to Zandia for the Church, where she battled Cyborg, but managed to escape.
She later quit the Church of Blood, and joined the Suicide Squad, where she befriended fellow Squad member Plastique.
When the Squad was divided into two battling factions by rebel Squad member General, Twister battled White Dragon. She had disabled him with her powers when she was hit by a duploid from the nearby battling Multiplex and General, which broke her concentration. Taking this chance, White Dragon incinerated her. Enraged by her friend's murder, Plastique attacked and killed White Dragon.

Powers and Abilities
Powers
Unique Physiology: Theresa was experimented on by Brother Blood which twisted her body and mind. Although giving her zero difficulty to move, act or think she does so in a twisted fashion.
Weaknesses
Related
Quotations by or about Theresa Zimmer (New Earth)

Character Gallery: Theresa Zimmer (New Earth)
Footnotes


Holy anachronisms, Batman!
This article is in need of updated information.
Please follow the guidelines in the Help section and complete this article to the highest level of quality. Remove this message when finished.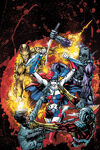 Suicide Squad member
This character is or was a member of the Suicide Squad, a team of imprisoned super-villains who perform high-risk missions for the U.S. Government in exchange for commuted sentences, in any of its various incarnations. This template will categorize articles that include it into the "Suicide Squad members" category.