Batman Character Guide [INTERACTIVE]
Play Sound
Although it is a rare circumstance, it is possible for material from the Third dimension to physically pass through the Fourth dimension and navigate the environment as if it were a flowing tributary. In the case of living people, such individuals are referred to as time travelers. Like all realms o
The Fourth Dimension is an abstract concept used in physics to identify and, when possible, quantify non-Euclidean space/time.
History
Although it is a rare circumstance, it is possible for material from the Third dimension to physically pass through the Fourth dimension and navigate the environment as if it were a flowing tributary. In the case of living people, such individuals are referred to as time travelers. Like all realms of physics, manipulation of the Fourth dimension is adherent to a series of basic principles. Violation of these principles (such as using the Fourth Dimension to alter the past) often produces unwelcome, even disastrous results.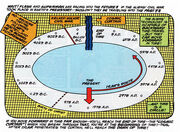 A group of chrononauts known as the Linear Men are known to police the Fourth Dimension.
A major aspect of the Fourth Dimension is the concept of Hypertime. Hypertime is a super-dimensional construct, which (under very limited circumstances) can allow versions of characters from one continuity to interact with versions from another.
The timestream also has a direct connection to the Speed Force. Speedsters commonly use the Speed Force as a gateway into the timestream. The timestream can also be seen from inside the Speed Force.[1]


Residents
See Also