Wiki Targeted (Entertainment)
Play Sound
Troy Stewart aka Tyroc was a sound manipulating member of the Legion of Super-Heroes.

History
Origin
He first discovered his abilities while saving his childhood friends from an approaching demon from neighboring dimensional space.
Troy's home of Marzal Island was like the fabled Brigadoon, a piece of land which vanished from Earth to another dimension for extended periods of time. Marzal would spend several years on Earth as an island off the coast of Africa before vanishing for several more years, only to reappear again.
Troy served as his people's champion being the only one with powers to help ward off trespassers to his isolated island nation. Troy took the name Tyroc as it fit his sonic scream abilities, being a Marzalian translation of "Scream of the Devil."
Expand
This section of the article does not provide a complete profile of the subject. You can help out by providing additional information, expanding on the subject matter in order to bring this article to a higher standard of quality.

This template will categorize articles that include it into Category:Incomplete Articles.
Powers and Abilities
Powers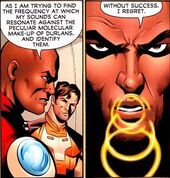 Sound Manipulation: Troy Stewart possesses a sonic scream; the pitch, volume, and words of his scream could initially vary to produce a variety of different effects.
Abilities
Paraphernalia
Transportation
Trivia
Troy Stewart is also sometimes called Scream of the Devil.
Related
Footnotes